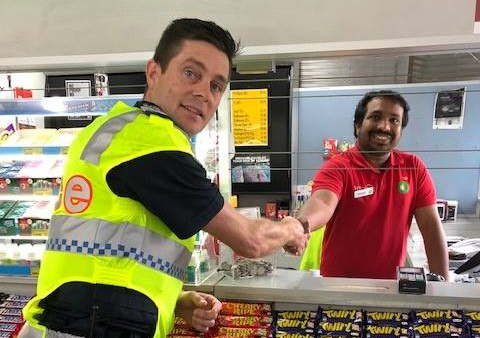 Police "bosses" have left their office jobs for a day to work the streets of Geelong, a social media post has revealed.
The Geelong Uniform Management Senior Sergeants and other Sergeants hit the city to give lower-ranking officers "a day off the road", police posted on Facebook this week.
The details ran under the headline 'You Can't Teach an Old Dog New Tricks'.
The post described the initiative as "something a little different" for the sergeants and members of the public who encountered them on the beat.
The sergeants worked divisional vans, station sedans, watch-house duties and foot patrols across Geelong's police's response zone, the post said.
"Although some were a little rusty to start with the bosses soon broke into full stride showing the younger more junior members they still know there way around.
"Leading from the front was current Geelong Police Station Officer in Charge Senior Sergeant Scott McKenzie and second in charge Senior Sergeants Tony Francis and Acting Senior Sergeant Dean Parrello.
"Other Senior Sergeants and Sergeants could be seen right throughout the shift taking reports at the watch house counter or standing at radar and preliminary breath-testing sites."
The post revealed that the sergeants also experienced the pointy end of policing during their shift.
"Besides responding to calls and intercepting vehicles as part of Operation Furlong, a significant arrest was made at Market Square of a male who was being sought by Torquay detectives for robbery," police posted.
Sen Sgt McKenzie described the purpose of the operation as supporting officers "working under pressure" with a "full-scale commitment of all ranks", the post said.