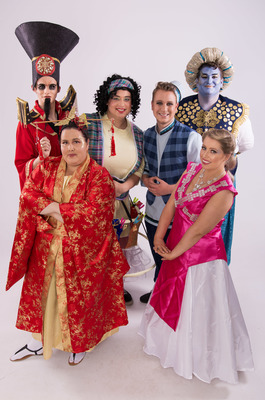 By Luke Voogt
Armstrong Creek's Jenna Irvin will swap attaching electrodes to patients' heads for song, dance and Kung Fu in the lesser-known original version of Aladdin this month.
By day the neurophysiology scientist helps diagnose epilepsy and brain conditions, by night she plays Jasmine, the headstrong daughter of the Chinese empress.
"Everyone knows the Disney version but I had no idea that it (was originally set) in China," the 30-year-old said.
"She's very strong-willed, probably more so than in the movie. When Aladdin is threatened she gets her Kung Fu skills on to try to help him out."
Aladdin is the annual show for Medimime, an acting troupe of mostly health professionals that has raised about $470,000 in 44 years for Geelong medical services.
This year the group is raising money for Barwon Health's maternity wing.
"It has lots of different people that wouldn't otherwise participate in theatre – it's a really good group," Irvin said.
"Hopefully we can tick over $500,000 this year."
Director Scott Graham recruited Irvin to Medimime after she shared the stage with him as a contestant in a Geelong parody of Eurovision.
"They were keen for me to audition," she said.
"I've been doing musical theatre since I was ten. It's an escape from everything. It's just fun."
Her first role was Mayor Munchkin in a Stawell production of The Wizard of Oz and she has been involved in local musical theatre since moving to Geelong at age 12.
Aladdin is her first show with her new theatrical friends from Medimime, who helped her celebrate her 30th birthday last weekend.
"A whole bunch of the cast came here and we had a big party," she said.
"They actually wrote a song for me and sang that, which was cute."
Among her new friends is fellow Armstrong Creek resident Deanne Elliott, who plays the empress.
"We car pool together to rehearsals which is handy," she said.
"She's awesome – we get along really well."
Elliott is life member of Medimime after joining as "ring in" at the request of a dental nurse friend 10 years ago.
"They can't get rid of me," 31-year-old teacher told the Indy.
The Chinese empress was stern and very different to the bumbling Sultan from the Disney movie, she said.
"She wants to arrest Aladdin just for looking at the princess. It's fun to play."
Like Irvin, Elliott has been involved in musical theatre most of her life and loves being part of the Medimime "community".
"It's a lot of fun working with the cast, I adore them," she said.
"And I really love knowing that what we've done is helping Geelong's hospital. Funding isn't always available for everything University Hospital Geelong needs."
The familiar tale of poor laundry boy Aladdin's quest for the princess's love features classic and contemporary songs from artists like John Farnham, Katy Perry and Taylor Swift.
"We've just gone for some really contemporary songs that everybody knows," Elliott said.
Aladdin comes to Geelong Performing Arts Centre's drama theatre for eight shows from 16 to 24 November.