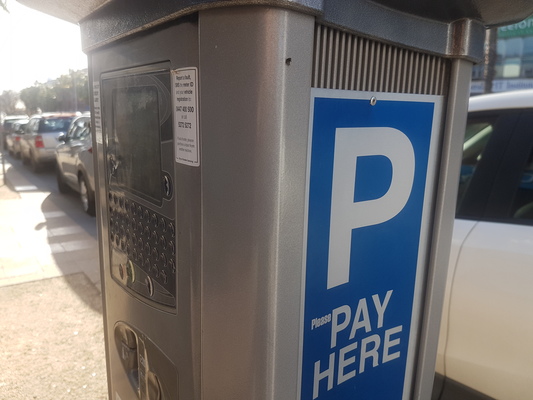 By Natalee Kerr
Geelong's council is set to introduce a new "ticketless" car parking system as a free-parking trial rolls out next month.
The trial will make the first 30 minutes free in all two-hour on-street parks across central Geelong from 1 December, according to council.
Parking meters will no longer issue paper display tickets, with motorists required to enter licence plate details to complete parking transactions.
The new system will "reduce" the environmental impact caused by paper waste, with 2.3 million meter tickets produced annually in Geelong, council said.
Councillor Eddy Kontelj said the concept is one of the "most significant" parking initiatives implemented by City Hall.
"The free 30-minute parking trial in 2P zones aims to stimulate interest in the CBD and encourage a higher number of short-term visitors," he said.
"It's a proactive initiative by the council to support our retail and hospitality businesses, and help central Geelong remain a place where people enjoy spending time."
Council passed the 12-month parking trial, that is expected to cost more than $1.9 million, by one vote at a meeting earlier this year.
The trial forms part of a number of "smart parking" innovations, including a new phone application to allow for a "more efficient" car parking system, council said.
The EasyPark app will enable motorists to conduct "up-to-the-minute" transactions and transfer credit to another bay in the same zone.
Mayor Stephanie Asher said the technologies will make parking more efficient for residents.
"This new technology will make it easier for the community to park in central Geelong," she said.
"It will remove the need for motorists to display a ticket in their vehicle, meaning they won't have to return to their car after feeding the meter or paying via the app."
The trial comes after council conducted an "internal testing period" from July to test the changes in the technology prior to full implementation.Council will also introduce 20 non-identifiable parking sensors in zones across the CBD to analyse parking occupancy and turnover.
The data will provide an insight into how motorists use the two-hour zones during the trial and help maximise availability of car parking spaces, council said.
Similar technology is being used in cities overseas and across Australia, including Melbourne, Warrnambool, Brisbane, Byron Bay and Gold Coast, according to council.