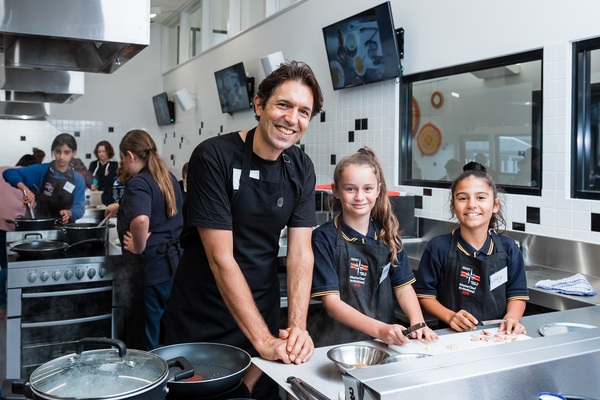 By Luke Voogt
Geelong students got a taste of the world's best cooking when Attica owner Ben Shewry visited for a 'master chef' competition on Tuesday.
Hamlyn Park Primary student Gabby Cooke, 11, was thrilled to cook a carbonara with the world-renowned chef."Usually my nanna cooks it but this one was a little bit better than hers," the grade 6 student said giggling.
"Mum told me, 'you'd better cook for me on the weekend.' So that's my weekend, I guess."
Gabby joined dozens of aspiring culinary artists learning from the New Zealand cook, who appeared on MasterChef and whose restaurant ranked 20th in The World's 50 Best Restaurants.
"It was really fun and it was great to see Ben there because I know he's a really good cook and I saw his show," she said.
"He taught us about his background and all that."
Students tested their skills in a 'mystery box' challenge, revising Shewry's famous Black Ant Lamington as he visited North Geelong Secondary College.
Rollins Primary School students won the challenge while Herne Hill Primary won a 'master chef' competition, event coordinator Katina Astles said.
"The students didn't use black ants but they used some other wacky foods."
The day celebrated multiculturalism at the college, where students speak 43 languages, according to principal Nick Adamou.
"We welcome students from all over the world and we embrace their cultures," he said.