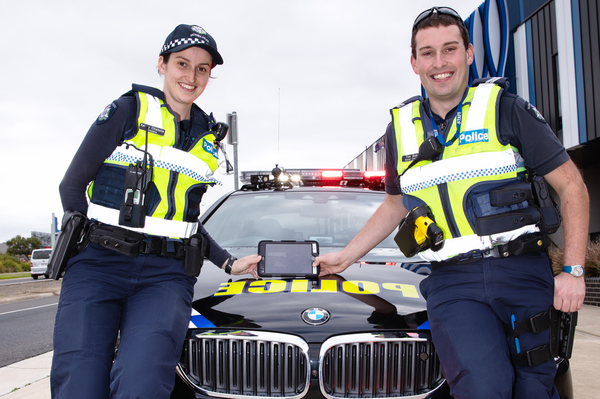 By Luke Voogt
Dodgy Geelong drivers flouting the law will be in the sights of new number plate recognition technology hitting the road this week.
Waurn Ponds Highway Patrol officers scanned 1800 cars with technology between 9am and 2pm on Wednesday, resulting in 31 detections and 10 intercepts, they said.
Victoria Police deployed a car with the new technology to Waurn Ponds Police Station on Monday, Road Policing Command Assistant Commissioner Stephen Leane announced.
"Unauthorised road users pose a significant threat to themselves and others," he said.
A 2016 study found unauthorised drivers were at fault in 16 percent of fatal collisions, AC Leane said.
The same study found about one in five injury collisions involving an unregistered vehicle also involved an unauthorised driver, he said.
"These drivers have no right to be behind the wheel, either because of their previous unsafe behaviour or because they are unlicensed."
The patrol car would be one of 221 state-wide with the technology, allowing police to catch more unauthorised and dangerous drivers and riders than ever, AC Leane said.
"The system will allow us to scan around 5000 number plates per shift, which is a huge increase on what our officers are able to do manually."
Victoria Police outfitted the car with new automatic number plate recognition (ANPR) that scans number plates and matches them against vehicles of interest.
The technology allowed police to better detect suspended, disqualified or unlicensed drivers, unregistered or stolen vehicles and stolen number plates, AC Leane said.
"We're determined to detect them and get them off our roads and ANPR is a big step forward in that effort."
The cars also have cameras and microphones to record audio and visual evidence for court.
Police hoped that public awareness of the video system would enhance officer safety by deterring and de-escalating potential incidents, AC Leane said.
Victoria Police would complete the rollout of the full suite of ANPR units across the state by March 2021, he said.
The announcement came as the Victorian road toll reached 141 this week, up 60 per cent on 88 the same time last year.
The current road toll was the worst to date in at least five years, according to TAC.
Six people had died on Geelong roads to date on Wednesday.