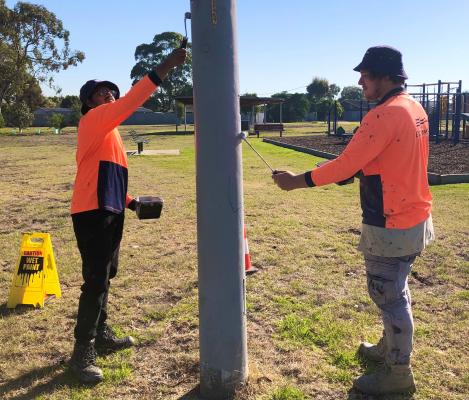 By Luke Voogt
Seven of 185 temporary employees have secured ongoing work with Geelong council so far in a state government jobs program.
Another 83 of the temporary employees are still working at council through the Working for Victoria initiative, with the last of these roles concluding on June 11.
"We know of several Working for Victoria employees who have secured employment elsewhere," council's strategy, people and performance director Kaarina Phyland said.
Although Ms Phyland was unable to say exactly how many had found work elsewhere.
"We have not conducted surveys to capture more data at this time," she said.
From November 12, 2020 to April 29, 2021, the program's graffiti team removed 4500 square metres of graffiti from buildings, fences, light posts and footpaths in 902 separate jobs, according to council.
Geelong's Working for Victoria employees processed 3231 refunds and fee waivers, which council introduced through its economic and community support packages.
The temporary employees also continued Meals on Wheels services during the toughest COVID-19 lockdowns, conducted daily sanitisation around Geelong and inspected up to 1500 residential bins per day.
A 25-person maintenance team cleaned and refurbished parks, while an asset management team audited about 200,000 public assets, including more than 20,000km of footpaths.
The audit will inform council's capital works program in 2021-22 and coming years, according to City Hall.
The majority of workers hired on six-month contracts through the $500 million state-wide program, beginning in August, were new employees.
The remainder were existing employees redeployed to other roles during COVID-19.
"Not only did it allow us to provide ongoing work for our own employees affected by the facility shutdowns, but it meant we could bring onboard more than 160 new workers," Geelong mayor Stephanie Asher said.
"This allowed us to support our community by meeting the high demand for essential services, introduce COVID-19 specific programs and bring forward work on vital projects."
Council's economic development chair Peter Murrihy said the program had provided "meaningful employment during a tough time" and helped "workers re-establish themselves in the jobs market".
"[Some] have used this valuable experience, often in an unrelated field to their previous employment, to develop new skills and to find another job," Cr Murrihy said.