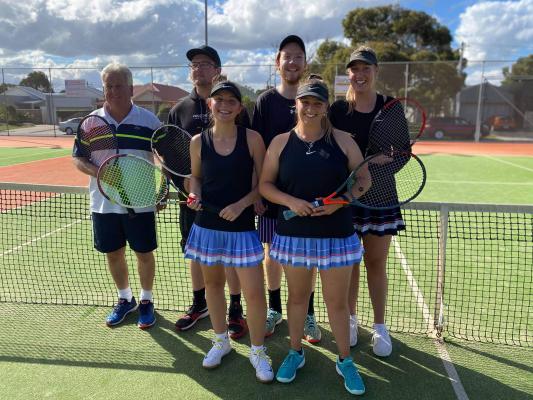 LOCAL TENNIS Donna Schoenmaekers
Tennis Geelong served up the first round of its winter competition with 102 matches across junior and senior divisions at the weekend.
After being promoted to Section 1 this season, reigning Section 2 premiers Ocean Grove defeated St Albans in a thrilling three-sets-all season opener.
Ocean Grove won three of the first four sets but St Albans clawed back taking the last two to draw level with just one game separating the teams.
With three tie-breaks and the other three sets decided by two games, the entire match was a tight battle.
Two flag favourites, Grovedale and Barwon Heads, met to hit off the season, with Grovedale taking the match four sets to two.
The first two sets of the day were split with Grovedale's Biance Duff and Jai Bosnjak taking a 6-3 win over Barwon Heads' Brett Armstrong and new inclusion Jordyn Aitken, while late inclusion Huon Bertino and Mimi Armstrong ran through Grovedale's Zoe Duff and Jason Schoenmaekers 6-0.
The men's and ladies' sets were also split with the Duff sisters taking a comfortable 6-2 win for Grovedale, while Bertino continued his good form from the mixed teaming with Brett Armstrong to win, again without dropping a game.
With the score at two sets all, both sides were keen to take the advantage in the final two mixed sets and start the season with a win.
Barwon Heads took a 4-2 lead in the first reversed mixed match but Bianca Duff and Dave Meehan fought back to take the set 6-4.
Grovedale also claimed the last set 6-4 for the win.
Section 1 champions from last winter, Newcomb, scored a comfortable five sets to one win over Highton.