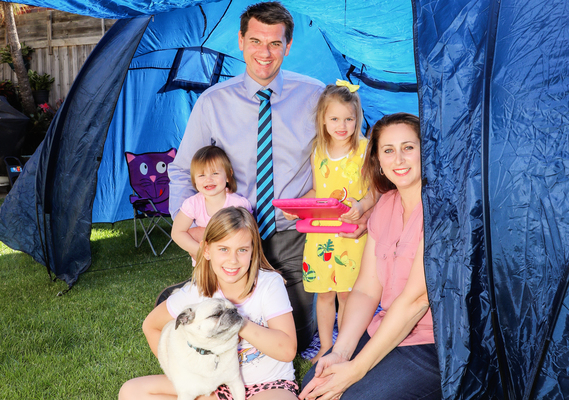 By Luke Voogt
Shane King went camping in the backyard to keep his three girls entertained, as coronavirus restrictions tightened this week.
He's one of hundreds of parents around Geelong coming up with innovative ways to keep kids entertained during social distancing rules.
Putting up the tent for Zara, 6, Grace, 3, and Olivia, 15 months, was partly "self-motivated", the Bell Park real estate agent admitted.
"I just wanted to get them out of the house so I could work with a bit of peace and quiet," he laughed.
"It's easier having them playing in the tent than to do video calls to the office with the kids on my knee.
"I'll probably leave it up if the weather's good. I daresay I'll have to go and sleep in it one night with them."
Camping was just one of the activities Shane had devised for his girls – so far they've made Easter hats and painted a new planter box with an "interesting" colour scheme.
"It doesn't matter what it looks like so long as they're happy," he said.
Keeping his "active" kids entertained without resorting to a screen could be challenging, he said.
"All things considered, they're coping really well – kids are pretty resilient – but they are complaining about being bored."
He said the kids were frustrated they could not visit their grandparents, his partner Dana's elderly parents, who live five minutes down the road.
Shane and Dana had stopped by to drop off supplies and check on her parents, staying outside the house to keep them safe, he said.
Shane said he was lucky he has been able to continue working for Harcourts North Geelong from home.
"We're certainly very fortunate that I can still do my job – obviously you've got to change how you do it."