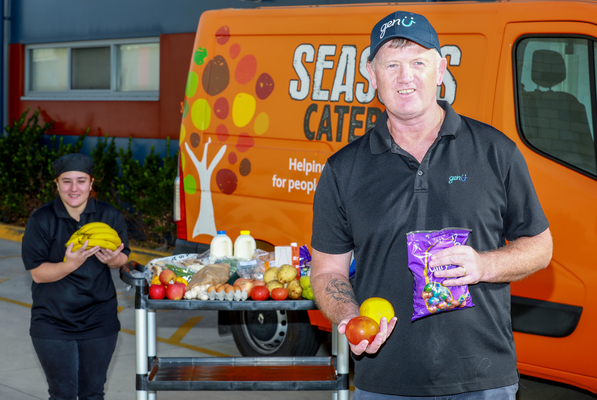 By Luke Voogt
A program sending fresh fruit and vegetables across Geelong is keeping more than 100 people with disabilities, like Adrian Smith, working through the coronavirus pandemic.
The 49-year-old from Geelong, who is blind, works in the vegetable processing area of genU's "much-needed" program.
"It's about trying to keep things as normal as possible," he said.
"If I wasn't working I'd be stuck at home all day. It gives me that time to get out, go to work and try and keep life as normal as possible."
Adrian enjoys preparing pumpkins, carrots, onions, beans, beetroot or "whatever's being prepared for that day" but, most of all, he loves the social side.
"Especially with everything that's going on at the moment," he said.
"I'm pretty social, my wife June and I go out a couple of nights a week for dinner, I catch up with my mates at the pub.
"So that's all stopped now – there's going to be a lot more time spent at home."
He and genU's other government-supported employees pick and pack the orders, including fresh fruit and veggies, pantry staples and more.
"I feel comfortable coming to work, the managers have put all the safety guidelines in place so that's been good," he said.
Interim genU CEO Graeme Kelly said maintaining employment for people with disabilities was a high priority and described the food boxes as "much-needed".
GenU Business Enterprises employs about 200 people with disabilities.
A genU spokesperson told the Independent more than half were still working through the program.
The remainder, older or more vulnerable employees, were still receiving similar government benefits while at home.
For info: www.seasonscatering.foodstorm.com/items/category/fruit-veg-pantry.