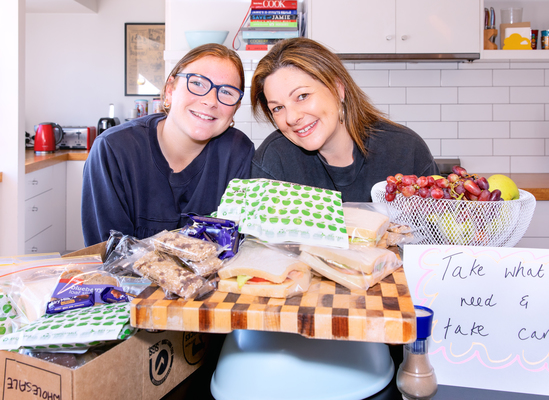 By Luke Voogt
Geelong mums are leading efforts to feed the homeless and unemployed as the COVID-19 pandemic forces some local charities to close their doors.
Newtown mother-of-two and teacher Leah Irving has a secret weapon in the battle against hunger – the humble BLT sanga.
"It's usually what we send the kids to school with," the 45-year-old said.
Leah showed off a makeshift sandwich production line in her kitchen on her new Facebook page: GUber Streets GEELONG.
"I'm used to volunteering and making people food in a hygienic way," she said.
She and her daughter Indigo delivered the sandwiches to the homeless in central Geelong several times in the past fortnight, she said.
"They said I'd 'gone gourmet' when I dropped them off – they appreciated something fresh and different.
"The reaction from the people that we helped was, even more importantly than getting a feed, is that people hadn't forgotten them."
"They're very courteous and only take what they need – they go get their friends to make sure they get what they need too.
"I'm tipping they're not on email all the time. They've got limited access to media so they're often the last to know what's happening.
"But they're practicing social distancing and looking out from each other, as much as I could gather talking to them from the car."
On Wednesday she delivered sandwiches to Lazarus Community Centre, which she said closed its doors later that day because of the pandemic.
Leah has now started delivering food to Geelong West charity OneCare, which remained open yesterday.
She said taking up the cause during the school holidays had given her purpose and helped her reconnect with her kids.
"I just thought we'd put it out there and see if we couldn't help some people."
Dozens had joined the effort, from colleagues and retired teachers to elderly neighbours dropping off slices, muffins and cookies on the front porch, Leah said.
Armstrong Creek mother-of-two Lauren Betts has also joined local efforts, distributing donated food to people in need.
"I woke up this morning and there were boxes out the front of my house," the 39-year-old said.
"I've hit 500 items and they just keep rolling in."
Lauren has been distributing the food from dozens of donors to about 40 households who have lost employment or are otherwise struggling.
"They're not being greedy; they're just taking what they need," she said.
"There's also a couple of grandmothers that are looking after their grandkids because their parents are nurses."
Both Leah and Lauren described those who had signed up to help as amazing.
"People just want to help," Lauren said.