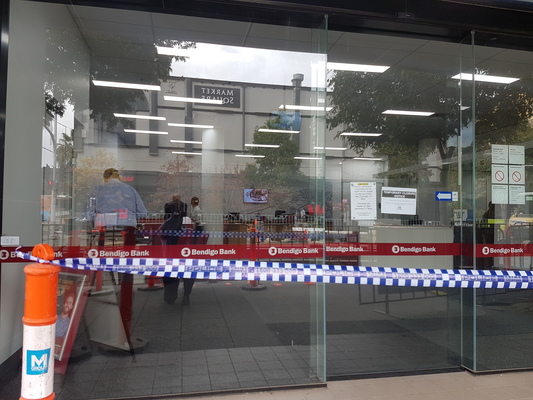 By Luke Voogt
A man who allegedly held up a Geelong bank with a knife was out on bail when the incident occurred, a magistrate has heard.
Armed Crime Squad detectives last Friday charged the 55-year-old Winchelsea man with attempted armed robbery, assault, assault with a weapon and committing offences whilst on bail.
The man appeared in Geelong Magistrates' Court later that day and the magistrate remanded him in custody to appear again on 3 August.
The charges follow an alleged incident at the central Geelong branch of the Bendigo Bank last Thursday.
A man entered the bank on May 10 with his face covered about 2.20pm before threatening staff members with a knife and demanding cash, police alleged.
But the man fled the bank on foot when its alarm sounded, police said.
Police cordoned off the bank and parked several marked and unmarked cars nearby as plain-clothes detectives investigated the scene.
Armed Crime Squad detectives arrived from Melbourne as police searched central Geelong for the man.
Armed Crime Squad detectives arrested a man in East Geelong about 10pm that day.
None of the bank's staff sustained injuries in the incident.