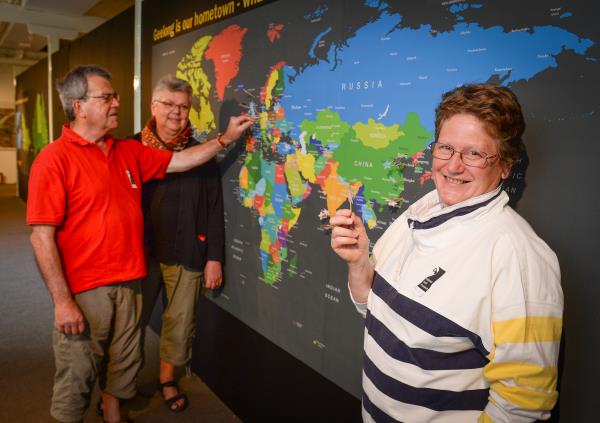 By NOEL MURPHY
ROADWORK signs, fluoro jackets and safety helmets make for an unusual entry to a showcase of early Geelong but, then, the idea is a city under construction.
The National Wool Museum's You Are Here exhibition of early maps, subdivision plans and images of yesteryear, is a modest but curious peep into the city's days of yore.
A massive hand-painted diorama drafted from the top of the Terminus Hotel by J Stuart Jackson in 1891 shows the city in glorious, axonomatic black and white from Western Beach's farthest reaches around 180 degrees to Johnstone Park.
It's contrasted by an 18-metre panorama of the present-day waterfront, electronically stitched together from some 50 colour photos. Subdivision plans and maps advertising land sales at new suburbs such as North Shore, Herne Hill, Manifold Heights and areas such as Buckland's Paddock in Newtown date to the 19th Century.
They're complemented by parish maps of Geelong going back to 1840, paintings of the same vintage and photos, posters, commercial brochures, aerial images and lithographic prints.
The waterfront panorama is part of a Picture the Coast project covering the entire Australia coastline.
"This is a fantastic project as big as Australia itself," said Geelong Mayor Darryn Lyons.
"(It's) an opportunity for Geelong to be part of this project showcasing one of Geelong's most important features – our iconic waterfront."
School children have been visiting the exhibition, helping with their own construction work projects on the gallery floor, while international visitors have also been encouraged to pinpoint their origins on a large wall map.