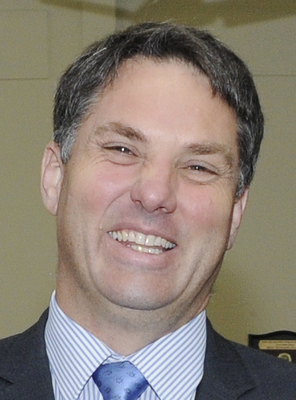 By Luke Voogt
Corangamite MP Sarah Henderson's recent talks with a visiting minister have again failed to deliver a City Deal for Geelong, according to Labor counterpart Richard Marles.
The Corio MP accused Ms Henderson of grandstanding as she hosted Federal Urban Infrastructure and Cities Minister Paul Fletcher.
"If there's one thing that Sarah does well it's oversell and under-deliver," he said.
"Geelong needs more than just the Member for Corangamite's rhetoric."
The attack comes after State Government allocated $153 million towards a Geelong City Deal to fund a convention centre and other "priority" projects.
But the Turnbull Federal Government is yet to match the amount.
Mr Marles hinted Ms Henderson was delaying an announcement for the next Federal Election.
She won her marginal seat by seven per cent in 2016 and a recent electoral redistribution could see her lose Liberal voters areas like Highton.
"We need to see Sarah take an interest in delivering for our city now, not just making promises she can't keep when she is facing an election," Mr Marles said.
But Ms Henderson said discussions on a Geelong City Deal were progressing, as Mr Fletcher visited on Monday.
Ms Henderson promoted the deal funding a link road into the Future Economy Precinct at Waurn Ponds, which she said would be home to more than 2000 high-tech jobs.
"An expanded road network would support efficient and safe travel within the precinct and manage increasing high vehicle traffic volumes associated with the precinct's growth."
Mr Fletcher described his visit to Geelong and meeting with stakeholders as "very instructive".
"Sarah is a strong advocate for her community as we continue these discussions," Mr Fletcher said.
Geelong was part of the Turnbull Government's City Deal agenda after it recently concluded agreements with Western Sydney, Launceston and Townsville, Mr Fletcher said.