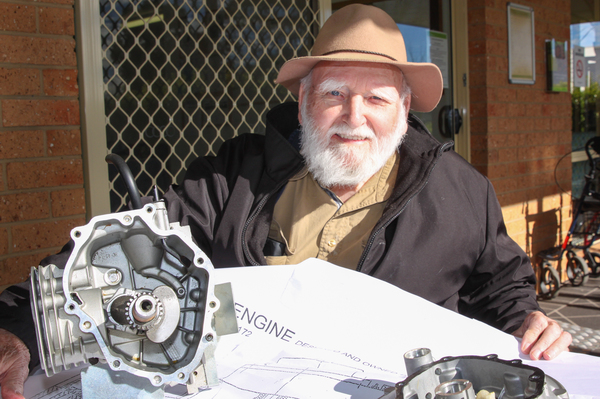 By Luke Voogt
A retired Whittington engineer has designed a vegetable oil-powered car engine he believes could revolutionise transport worldwide.
"It's unheard of and people said it couldn't be done but it's here," said the engine's inventor Kenneth Oakden.
Now all the 88-year-old needs is someone to put it together.
The great-grandfather has considered travelling to his former homeland of England in search of a manufacturer for his prototype.
"But if I can get somebody here to do it I would," he said.
Kenneth designed the one-stroke, air-cooled engine to run on vegetable oils such olive, coconut and canola.
The engine would provide a cheap travel alternative for developing countries and produce far less carbon emissions than a regular car, he said.
"The fuel can be grown in almost all countries, making the car available to third world users who cannot afford to purchase mineral oil.
"The exhaust gases are less polluting and the carbon footprint is almost neutral."
Kenneth migrated from England in 1968 and worked as an engineer across Victoria and Tasmania, including a stint at Alcoa in Geelong.
He began designing the 'Akorn' engine "a long time ago" after seeing a similar design for a two-stroke engine on TV.
"I like solving problems," he said.
"There was a program on television called The Inventors and I saw something there that stuck in my mind."
The Akorn requires no gearbox, differential, rear axle, tail shaft and other parts common to regular cars, Kenneth said.
"Plus it's very cheap to produce."
The engine produces electricity to drive all four wheels and charges its own battery, meaning it requires no charging station like an electric car, he said.
"As long as the engine runs the vehicle will run."
Kenneth acknowledged some readers might see him as a "silly old bugger" but he was confident the engine would work.
"There's always got to be a first time for everything," he said.
"There's no reason in theory it's not going to work."
He hoped to build the engine through a franchise agreement with a local manufacturer.
"I'll give them 40 per cent of the profits they gain from it," he said.
"I don't want any money for myself – I'll use the money to help others that are in need."