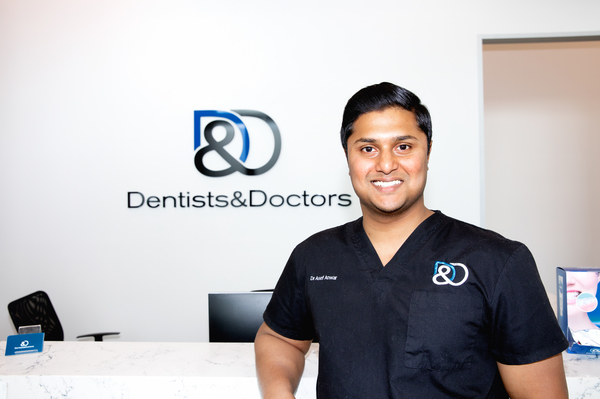 When Doctor Asef Anwar opened his central Geelong dental clinic in January he wanted to give patients access to the best treatment possible.
His clinic, Dentists & Doctors, provides world-class treatment using state-of-the-art technology.
"It's a one-stop shop for all dental treatments and needs," Asef says.
The practice has the latest in digital 3D scanning equipment including a high-tech cone beam computed tomography (CBCT) scanner.
"I'm one of the first in Australia to have it," Asef says.
"It allows us to provide treatment with a high degree of accuracy and precision."
This more accurate scanning and imaging allows Asef and his team to complete veneers, crowns and bridges in a single appointment day, reducing chair time for patients.
He and his team of clinicians and nurses perform a wide range of dental procedures, including cosmetic dentistry, dental implants, root canal therapy and removing wisdom teeth.
They enjoy building a rapport with patients and don't mind staying back late to get the job done.
"We don't finish until the patient's happy with the treatment," Asef says.
And their experience managing anxious patients allows them to put any client on the chair at ease.
The clinic also offers onsite sleep dentistry, providing further comfort for patients.
Asef opened Dentists & Doctors after moving to Geelong to be closer to his Ocean Grove parents.
"Patients can feel and see the difference from the treatment that we give them," he says.
"It's great just being able to give back."
He had previously worked across regional NSW and Victoria after graduating from The University of Sydney.
"Being able to work in those areas of need gave me really good experience and made me appreciate the impact a dentist can have," he says.