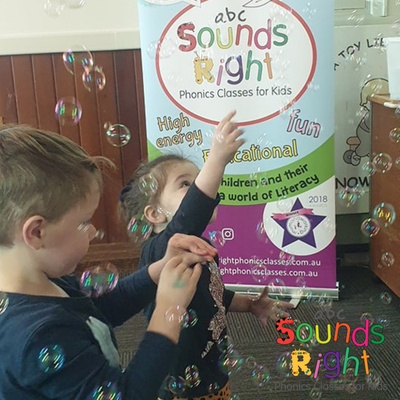 Sounds Right Phonics Classes have commenced in venues around Geelong, Lara and the Bellarine peninsula.
The classes are guaranteed to provide fun, giggles and quality time for parents and children aged three months to five years.
All activities are planned to promote speech and language, physical development, social skills and introduce children to a world of literacy. Kids will have so much fun, they won't even know they are learning.
Sounds Right Phonics Classes for Kids is the brainchild of sisters Charlie Day and Alex Burnside. Both sisters are primary school teachers with extensive experience in early years education. The classes were created to equip preschoolers with the phonics skills to open up a world of literacy, and to ensure that they are ready as they begin their reading and writing journey at school.
Says Alex: "As a reception (prep) teacher I sometimes felt that there was a slight gap in the children's early phonics knowledge as they entered school, and that these needed to be taught prior to them learning reading."
Over a wine or two one night the sisters came up with the idea of opening a class that taught these early phonics skills in a fun and high energy way. The aim was for preschoolers to learn new things without realizing that they were attending an educational class. The sisters also wanted parents to gain knowledge about phonics from the classes where fun tips and activities are modeled and suggested to encourage the continued development of early literacy skills at home.
Children learn about the world around them through all their senses: seeing (visual), hearing (auditory) and movement (kinesthetic). All the classes are carefully planned by a qualified early years teacher. The different elements within the fast-paced sessions are designed to promote key areas of development, as well as providing ideas to continue learning at home.
Shae Callahan, a mother-of-four and former nurse, is delivering Sounds Right Phonics Classes to Geelong, Lara and the Bellarine Peninsula. Shae's two older children have dyslexia, and through assisting them and learning with them Shae discovered the wonderful world of phonics, making her the perfect person to come on board.
To attend a free Sounds Right Phonics Class, go to www.bit.ly/free-class-coupon.