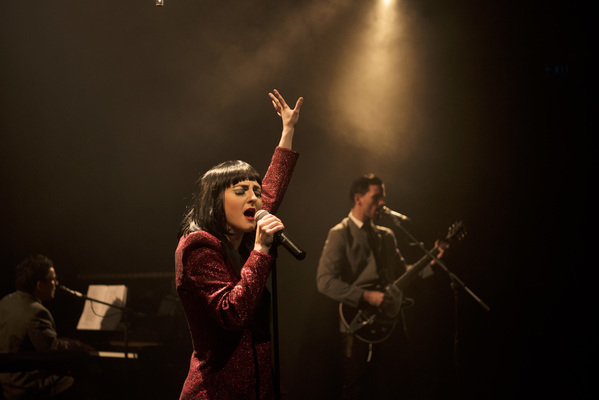 By Natalee Kerr
A "unique" musical memoir bringing life to The Beatles' iconic songs through a female perspective is set for its Geelong debut next month.
Brisbane-based entertainer Naomi Price is behind the show Lady Beatle that "reimagines" The Beatles iconic songs 50 years on from their final concert.
Drawing on female inspiration for the show, Price said she is "putting a spin" on the groups classic songs.
"To get up as a woman and sing those songs I think changes the perspective completely," she said.
"It brings fresh eyes and a completely different voice to the music."
The experienced performer and co-founder of The Little Red Company said The Beatles show is one of her most "theatrical" works to date.
"The idea came about over a drink with my best friend, as all good ideas start," she laughed.
"That conversation was five years ago, we didn't do anything about it until later on but now we're on a first national tour which is really exciting."
The tour spans across 32 venues, including two shows at the Geelong Performing Arts Centre on 18 and 19 September.
She said the show involved "a lot" of research that revealed "fascinating real stories behind the music".
"When unpacking these songs we realised that a collection of seemingly ordinary real-life women inspired some of The Beatles most well-known songs," she said.
"Filtering these iconic songs through their personal lenses resulted in some exciting ideas."
Joined on stage with a backing band, Price performs hits including Lucy in the Sky with Diamonds, Yellow Submarine and Penny Lane.
Despite her desire to avoid the label of a "tribute show" the 35-year-old said she still feels "massive amounts of pressure" taking on one of the world's most famous musical groups."I don't want to ruin anyone's favourite Beatles song," she said.
"We're not trying to make the original tracks unrecognisable but we are trying to bring something new to them.
"But performing with four amazing talented guys evokes that feeling of it being like The Beatles without it being a tribute as such."
Originally from England, Price said she has had a "big love" for The Beatles from a young age.
"My dad's family is from Liverpool so my dad and grandmother really got me to fall in love with their music," she said.
Coming from a musical family, the former The Voice semi-finalist said she was thrown into the performing from an early age.
"I never thought about doing anything else, I just knew somehow I'd get into this industry," she said.