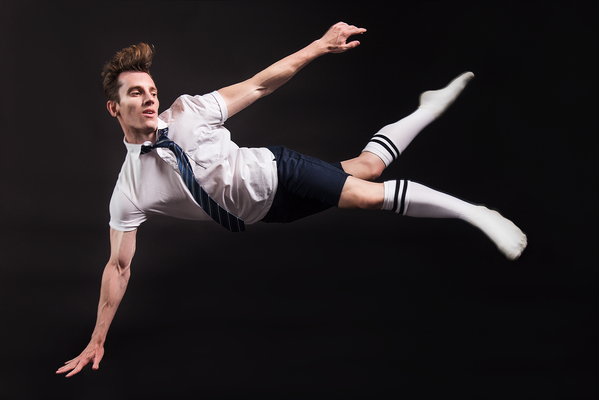 By Natalee Kerr
A local audiences will learn about the history of dance when a new one-man play comes to Geelong next week.
From the tango to the foxtrot, pas de deux to rap, 100 Years of the History of Dance as Told By One Man in 60 Minutes with an Energetic Group Finale covers it all.
Brisbane dancer Joseph Simons takes on central character Jacob, a 17-year-old schoolboy "bringing life" into history.
Presenting a class project on the "most influential" choreographers from the 1920s onwards, Simons said Jacob informs his class on the topic through dancing.
"Not only does he tell his class about the lives of choreographers such as Martha Graham and Roudolf Nureyev but he also demonstrates their signature styles too," he said.
Simons describes the play as "silly and fun" that also taps into a "personal and deep level" through fascinating facts and stories.
"Putting together this show involved piles of research, I learnt an enormous amount about these people," he said.
"It dives into some pretty special personal stories about these choreographers."
Moving through the decades of dance non-chronologically, Simons said the fast-paced performance appeals to "everyone".
"The great thing about this play is that the non-dancers are loving it because of the educational side of things," he said.
"It's really great hearing when people say they want to head home after the show and jump on Google and see what they can find about certain influences."
The youngest of three children, Simons said he wanted to pursue performing since he was a child.
"My sisters and I formed a singing group and we used to travel around New South Wales and perform at functions…I was singing a three-part harmony at the age of four," he said.
"So then mum put all three of us into dance class and over the years my sisters dropped out but I never did, dance was all I ever wanted to do."
Simons has toured extensively across the world in numerous productions, but the now 32-year-old said taking on the role of Jacob was one of his "biggest" challenges to date.
"The energy required to bounce across the stage like a 17-year-old is really taxing and certainly by the end I'm completely exhausted," he said.
"It's a monster of a show for me, it involved a lot of training even outside of just rehearsing. I had to craft the art of dancing and talking at the same time, which was pretty hard to do."
Simons will bring his show to the Geelong Performing Arts Centre on 3 September.