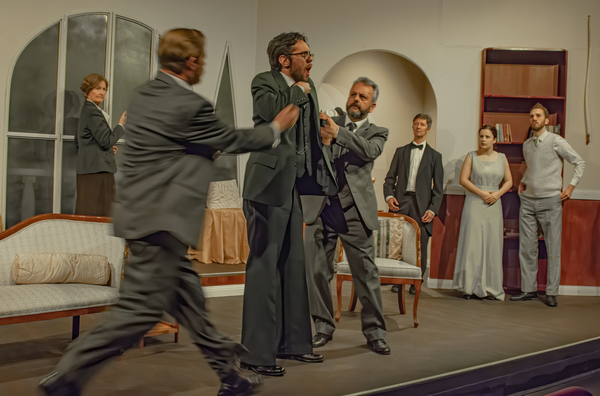 by Luke Voogt
Local audiences can choose the ending to an Agatha Christie thriller returning to Geelong Repertory Theatre for the first time in 40 years next month.
The crime novelist's masterpiece, And Then There Were None, would become even more mysterious with audiences choosing the original or alternative ending, director Greg Shawcross explained.
"They won't know the ending until it plays out in front of them," he said.
"I think they'll be very shocked, whichever ending they get."
The play follows ten strangers who receive an invite to a dinner party on a remote island off the coast of Devon from a mysterious host.
But instead of their host, a gramophone recording accuses each guest of having a secret for which they must pay.
With the weather preventing a return to mainland England, each guest must fight to survive the horrors of Soldier Island.
The play's cast had been rehearsing two different endings: one from the novel and another Christie wrote for an onstage adaption, Shawcross said.
The local drama teacher was reading the novel and thought the plot would be perfect for Geelong West's Woodbin Theatre, he said.
"It's a very intimate theatre, which makes it even easier to get engrossed in the play and feel like you're a part of it."
Shawcross grew up loving Choose Your Adventure books, in which the reader chooses from multiple endings, and was thrilled to discover an alternative ending to Christie's play.
"As soon as I heard there were multiple options to choose from I was drawn to it," he said.
"The cool thing about the play we're doing is it has both endings. Now you can choose the ending you want to stage."
The audience will vote in a secret ballot before the play but will have to wait until the last moment to discover which ending their compatriots have chosen.
Christie described And Then There Were None as her most difficult novel to write due to its complexity and baffling twists.
"It's just so intricately written," Shawcross said.
"I don't think it's the sort of book you could sit down and write – it would take a lot of planning."
The novel sold more than 100 million copies and some credit the book's plot as the basis for many Hollywood horror flicks.
"So many storytelling conventions were established in this novel," Shawcross said.
"The danger with staging a play like this now is the audience could find it full of stereotypes."
The long-time Agatha Christie fan looked forward bringing his take on the tale to life in 11 shows at Woodbin Theatre from 6 to 21 September.
"It's got a very different tone to it than any other novels she's written," he said.
"It's a much darker story. The play will have some scary moments in it."