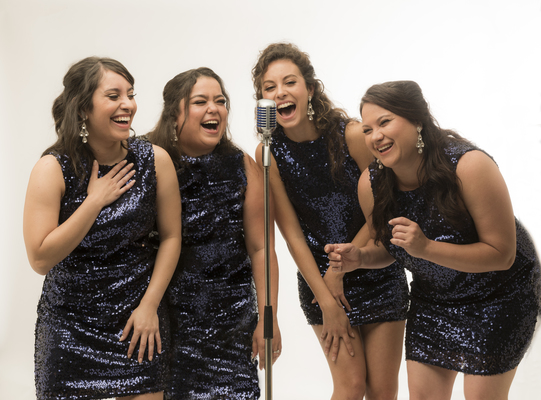 By Natalee Kerr
A true story about a group of Indigenous singers will land on stage in Geelong for the first time next month.
The story of The Sapphires follows four Aboriginal women from regional Australia who travelled to Vietnam during the '60s to sing for the troops at war.
Melbourne-based performer Mindy Kwanten, who plays Cynthia in the production, is one of four Indigenous female leads in the musical.
Kwanten said she was "thrilled" to share "a positive and inspiring" story to major cities, regional and remote areas in the country.
"The Sapphires has been a huge success as a play, film and soundtrack album, so I guess a major national tour was the one thing left to do," she said.
"It's a very courageous tour. We're visiting more than 160 venues in 10 months.
"We've travelled to outback Australia and performed in places that don't have theatres. We've literally used a shipping container as a stage."
Writer and director Tony Briggs found his inspiration for the show in the experiences of his mother and aunties, who toured Vietnam as singers in 1968.
Kwanten said the stage show was an "authentic" telling of the original story.
"It's directed by Tony so this version is pretty special as it's how he sees it," she said.
"It was such an amazing thing that these women did back in the 60s and I'm so proud to honour them this way."
The popular 2012 film was adapted from Briggs' play, but Kwanten explains there are some "major differences" in the storyline between the two.
"There are a lot of essential things that were left out of the movie that are actually integral to the storyline," she said.
"The stage show has a lot of points that really grab you that aren't seen in the film."
Kwanten said while the show explores issues such as race and prejudice, it also acts as an energetic and engaging piece.
"A major theme of the production is about getting out there and following your dreams," she said.
"I think it's very important to share a show like this with the current climate in our country."
The classically trained singer said her love for performing started from a young age.
"My grandmother got me into singing, she taught me so much," she said.
"I then became interested in musical theatre when I was 17-years-old. My first lead role was in the original cast of Fame the Musical and then things took off from there."
Kwanten said she has loved working with a "fantastic cast and crew" since starting The Sapphires tour last January.
"We got together at the very start of the year, had an intense five-week rehearsal before heading out on tour," she said.
"We haven't known each other for very long but we're like family."
The Sapphires will perform at Drysdale's Potato Shed on 18 and 19 July.