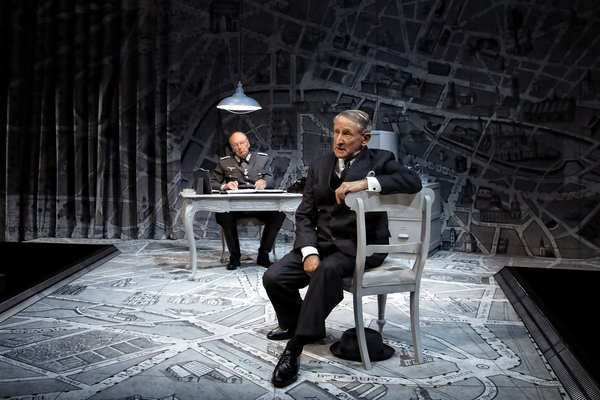 By Luke Voogt
The Eifel Tower, The Louvre and Notre Dame – none would have survived World War II if not for a German general and a Swedish diplomat.
Stage thriller Diplomacy recreates a fateful meeting in 1944 that saved these world-famous landmarks from destruction.
"The most extraordinary thing is people don't know the story," said director John Bell, who plays German General Dietrich von Choltitz.
As the Allies forced the Germans back, Adolf Hitler commanded General von Choltitz to destroy Paris before abandoning the city.
Set on rebuilding Berlin into Nazi utopia Germania and wiping out "inferior cultures", Hitler sort to destroy Paris's cultural landmarks and kill millions, Bell explained.
But at the 11th hour Swedish diplomat Raoul Nordling met the general at the Hotel Meurice to persuade him to leave the city standing.
Bell based the play on Cyril Gely's award-winning French film Diplomacy, which Gely in turn based on a French play.
"I saw the movie and thought this is a great piece of drama," he said.
"We got a hold of the original French copy. It hadn't yet been done in English."
General von Choltitz initially believed in the 'Aryan race' but lost faith as Hitler descended into madness, Bell said.
"Like many other Germans he became disillusioned with Hitler and saw they were heading for disaster."
Bell admits he became "hooked" on researching von Choltitz but gave up on the impossible task of playing his character to the historical letter.
In Gely's film the general had been threatened with his family's execution if he left Paris standing.
Some newspapers reported this in 1944 but historians have questioned these claims.
"I've just created this character who has this great dilemma, he either has to blow up Paris or they execute his family," Bell said.
The recreation of the private meeting was as historically accurate "as it could be", he said.
"It's boiled down to this one conversation on this one evening. There would have been a lot of horse-trading before this and a lot of other people would been involved."
Bell is a long-time Shakespearean actor and says the Bard would have enjoyed Diplomacy.
"This is the kind of play he would have done had he been alive now," he said.
"Shakespeare had a very keen political mind. He also understood human nature very well."
Fellow actor and friend of 60 years John Gaden, who appeared in Muriel's Wedding, plays Raoul Nordling.
The duo worked together on their first day of university and Gaden's personality made him perfect for the role, Bell explained.
"He's the ultimate diplomat. He's very smooth and charming," he said.
Diplomacy plays Geelong Performing Arts Centre, the only Victorian venue in a national tour, from 17 to20 July.