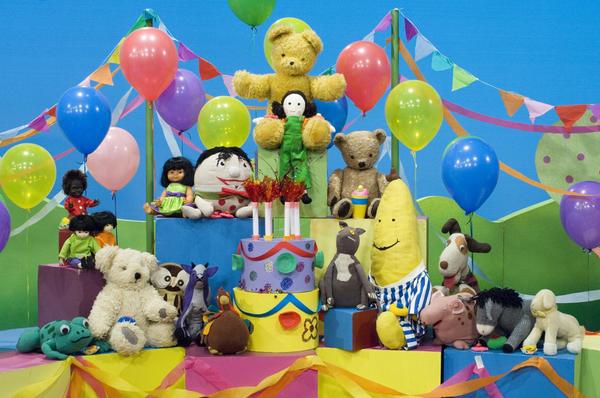 There's a bear in there, and a chair as well, as Play School celebrates its 50th anniversary in a Geelong exhibition.
Look through the round, square and arched windows and see characters that shaped Australian childhoods for half a century like Big and Little Ted, Humpty and Jemima.
All the crew are at Geelong's National Wool Museum until 7 October for a special exhibition celebrating the incredible milestone.
Play School, still running on Aunty, celebrated its 50th anniversary on 18 July, 2016, and the exhibition has been touring Australia since.
Nearly 100 presenters have appeared on Play School, Australia's longest-running children's show, since 1966.
The show began as an adaptation of a program that aired on BBC in 1964. But ABC's Play School outlived the BBC version, which ended in 1988.
In a special adults only event the longest-serving presenter in the show's history, Australian actress Benita Collings, comes to National Wool Museum.
Collings began presenting in 1969 just three years after Play School began and retired from the show in 1999.
She will serve up anecdotes from the popular children's program and her life on screen, tucking in visitors for a night at the museum with cocktails and cake.
Visitors can pop on nightgowns, classy PJs and nightcaps for the 18-and-over event from 6.30pm on 11 July.
Playschool presenter and 2018 ARIA winner Justine Clarke is also coming to National Wool Museum but has already sold out her three shows next week.