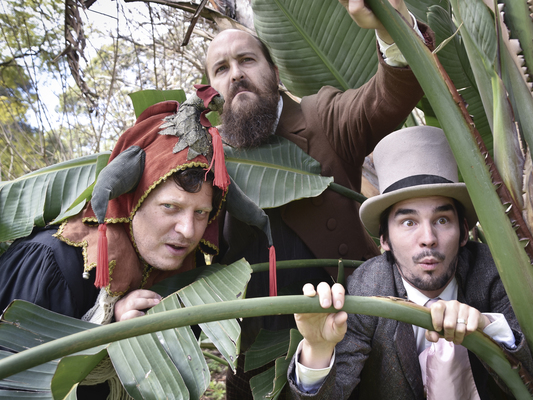 By Luke Voogt
For the past 25 years Bruce Widdop has led audiences on outdoor Shakespearian adventures, during his more than half a century in theatre.
"We call our audience adventurers because it's like they're going on an adventure with us," 73-year-old told the Indy.
"Outdoor theatre makes the plays come alive."
Widdop has performed in more than 500 plays written by The Bard since he founded theatre company OZACT.
"It's pretty incredible right?" he said.
"I couldn't be happier – it's been really fulfilling and exciting."
The company returns to Geelong Botanic Gardens next month with Shakespeare's masterpiece of disguise, deception and desire, Twelfth Night.
"I think it's a sensational venue," Widdop said.
"The old part of the gardens is beautiful with its sweeping lawns, English plants and exotic specimens.
"We have an audience guide character that leads them to different locations in the gardens."
Widdop taught theatre at Federation University, Ballarat, for 25 years before he decided to jump in the deep end and start his own company.
He never thought the group would last as long as it did.
"It's like jumping off the pier and then you see where you go from there," he said.
"You don't look that far ahead."
Every year he searches for new locations to stage Shakespeare's classics.
"I like to take people to different locations that they've never seen before. "
For 12 years he has performed at Geelong Botanic Gardens, the fourth oldest in Victoria.
"Our productions are popular with Shakespeare lovers as well as newcomers," Widdop said.
"There's beautiful poetry in the plays and plenty of action – so even kids six years and under who watch the shows with their parents are able to get something out of it."
A kaleidoscope of mistaken identities, swashbuckling duels and flashing wit, Twelfth Night meanders through flowers and fern gullies of the gardens on 4 and 5 January.
Orsino loves Olivia, who won't give him the time of day, Olivia loves Viola, who she thinks is a boy, Viola loves Orsino, who doesn't know she's a girl.
Malvolio loves himself and Sir Andrew, Sir Toby and Maria love life to its fullest and most outrageous.
"All the characters are not what they seem," Widdop said.
Widdop co-directs the show and plays Malvolio, a proud servant with "upward ambitions".
"He's striving to get ahead but he goes too far and he has a fall," he said.
"Because he has such a sharp rise and tremendous fall, that makes him exciting to play."
The cast features the acting talents of Matt Young, Sorcha Breen, Nicola Pohl, Ryan Ireland, Andy Delves, William Lark, Luke Ingham, Eleanor Ruth, and Lisa Widdop.