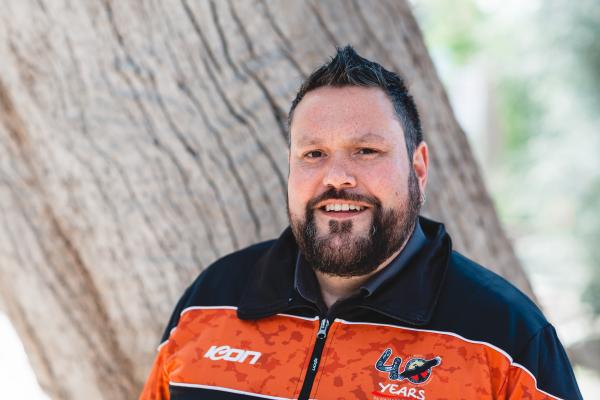 By Luke Voogt
Leopold father-of-three Mick Ryan is one of eight Geelong musicians joining a live-stream line-up from across Australia and the world this weekend.
The Ngarrindjeri-Gunditjmara man and his band The Louds will play a 20-minute slot beginning at 2.40pm tomorrow in Australian online festival Isolaid.
"I think it's a fantastic opportunity for artists to be able to continue to perform," the 35-year-old said.
"It's a little different, obviously, not being able to do it in front of a crowd but it's good to have that platform."
The Louds are no strangers to playing alongside big Australian and international names.
They joined artists like Kasey Chambers and Xavier Rudd on the list for the Two Worlds Festival in Melbourne – one of Victoria's last major live gigs in March before COVID-19 hit.
"We had released our debut album that week or the week before," Ryan said.
"That was when COVID-19 was starting to become really serious. People were really starting to freak out.
"It's been a very strange few months since."
In 2014 he teamed up with another big name, iconic singer and former Australian Idol judge Mark Holden, for a track about Geelong's Indigenous history.
Holden was creating an album about his family, who settled at Indented Head.
Ryan thought Holden's initial phone call to him was a prank, he explained, laughing.
"I just hung up. After he called back, I sort of realised this must be the real deal."
The song, Kill Party, references South Australian town One Tree Hill, but it actually tells the story of Bell Post Hill's namesake bell.
"They would ring the bell when they saw the aboriginal people coming towards their crops or even just coming in to do some hunting and gathering," Ryan said.
"The township would send out a kill party.
"[It was a colony] that came and killed them for hunting and gathering things they could use in their daily lives.
"That's the story that was told to Mark.
"The song's a great representation of reconciliation.
"I'm an Aboriginal man and he's a non-aboriginal man and we've come together to tell this story on Australian history and hopefully educate some people along the way."
The song predates a recent campaign to change the suburb's name due to its history.
Ryan said he understood the campaign but suggested leaving the name as Bell Post Hill instead could actually help teach locals about that history.
"I'm not too stressed about the name change at Bell Post Hill," he said.
Ryan has followed the recent Black Lives Matter protests in the US.
The movement resonated with Indigenous Australians due to hundreds of deaths in custody and a life expectancy gap of about 10 years between them and other Australians, he explained.
"We get it, all lives do matter, but black lives are at a significant disadvantage.
"I'd really like people to be aware and understand it: 'yeah, they are being disadvantaged more than us so why can't we give them a helping hand'."
"Obviously being an Aboriginal male, I've got that message but I'm not really trying to push a message; I just love to play music."
Ryan also works at Wathaurong Aboriginal Cooperative to get "better health outcomes" for his Indigenous "brothers and sisters".
"I'm pretty happy with the man I am and what I'm trying to achieve," he said.
"I think anyone who identifies strongly as an Aboriginal person is going to experience some sort of racial discrimination in their lives.
"But I'm not losing sleep about someone's ignorance against me because of my racial heritage."
Ryan will play Killing Party, a cover of Goanna's Solid Rock and other tracks alongside The Louds bassist Johnny Saunders and drummer Adam Giles tomorrow.
The band will beam out to Australia from Giles' loungeroom using their Instagram account to live-stream into a feed on Isolaid's website.
At the end of each set musicians tag-team to the next artist on the line-up, including more than 100 Australian and international performers, in a journey of musical discovery.
"I've seen a lot of these artists live," Ryan said.
"We're going to have people who wouldn't normally be able to see us and potentially have a larger audience than we normally would."
The Louds have done a few live streams since the pandemic began.
"It's real weird – you can't interact with anyone," Ryan said.
"You're sort of just sitting by yourself."
But fans posting comments and "love hearts" had nonetheless made the band feel supported, Ryan said.
"People are there – it's just a very weird sensation knowing they're there but you can't see them."
More information: www.isolaidfestival.com