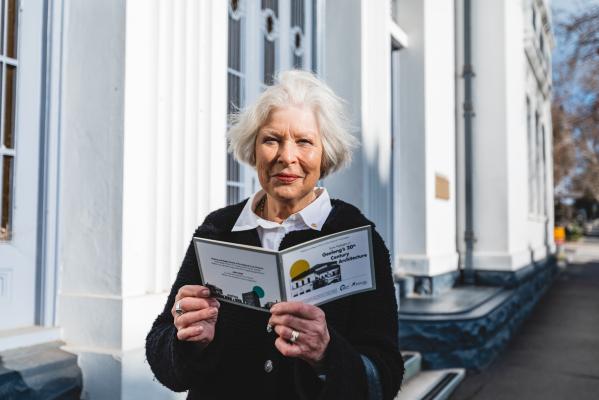 By Luke Voogt
Overseas destinations might be off limits during COVID-19, but now Geelong locals can tour their own city with an all-new guide book.
"Be a tourist in your own town," said Geelong historian Lex Chalmers, who compiled the pocket-sized book.
"There's a lot of people out walking at the moment and they're probably getting bored with where they're going.
"Now they can take a CBD walk to admire some of Geelong's best 20th Century architecture."
The booklet takes readers winding through central Geelong to discover its Nouveau, Edwardian, Beaux Arts, American Art Deco, Moderne and Brutalist 20th Century buildings.
"All are on display on the walk around a little more than one city block," Lex said.
"It begins and ends at Johnstone Park's bandstand, and there are interesting coffee stops along the way.
"It's perfect for a socially-distanced, interesting outing beyond your usual paths."
Geelong and Region National Trust branch prepared the booklet for Geelong's UNESCO Design Week 2020, which was cancelled earlier this year due to COVID-19.
"It's not just me, it's a National Trust branch effort," Lex said.
"I merely compiled it using available information."
Lex hoped Geelong's 20th Century architecture could be a drawcard similar to in Napier, New Zealand.
"[Napier] is renowned as having one of the best collections of Art Deco buildings in the world, attracting many visitors," she said.
"With its more varied 20th Century building stock, Geelong should be able to do the same.
"[The buildings] reflect Geelong's development and history as a varied manufacturing centre, especially in automotive and wool manufacture."
More information: artsatlasgeelong.com.au