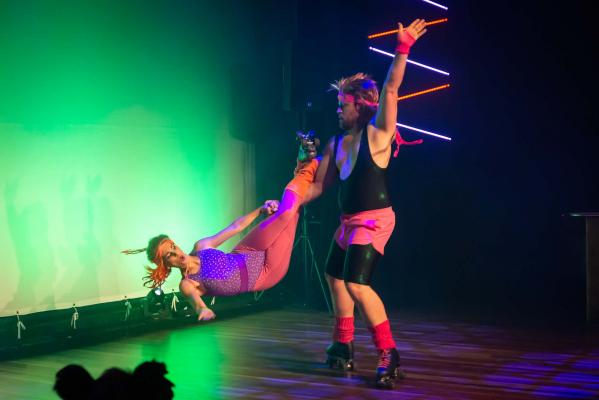 By Luke Voogt
A mullet-filled circus and dance extravaganza two years in the making is skating its way into the Potato Shed this month.
Memoirs and Mullets follows the love story of Frankie and Shazza, as they skate, dance and bumble across the decades towards the '80s.
"We've performed the show since 2018 but last year was meant to be our first time at the Potato Shed," said Chantelle Fava, who plays Shazza.
Fava and husband David Leeks play the couple, who meet in the '50s and journey together through the hippy movement, disco and other trends of the decades.
"Frank is a bit of a bumbling mess – he's such a sweetheart. He doesn't mean to do anything wrong but keeps tripping over his feet," Fava said.
"Shazza wants to be a superstar and she can't let go of that – she's always chasing that idea she's some sort of diva.
"The main bassline of the story is their love and how much they're devoted to each other."
Memoirs and Mullets is the origin story of Frankie and Shazza, who the couple began portraying at festivals and other events eight years ago.
"Everyone seemed to love them," Fava said.
"The more we acted as them, the more we found we slipped into the characters too easily."
But the fictional couple has only one thing in common with their real-life circus performer alter egos.
"Their love is completely unshakable," Fava said.
"Even though the show's written for adults, it's still appropriate for kids, and the music is so iconic and feel-good that it makes people leave the theatre happy and light.
"Which is something I think we need right now."
Fava relished the chance to perform at the Potato Shed after COVID-19 had devastated the arts.
"It's been a weird time for artists. Everything's on-and-off and you don't know where you stand.
"Sometimes it's hard to have motivation to get up in the morning, so it's nice to have something we're certain, almost, will go ahead again."
Despite the COVID-19 situation improving in Victoria, the pandemic continues to have a major impact on performers, according to Fava.
"We've just had two major events, one interstate, where we were booked to perform, cancelled due to the uncertainty with COVID," she said.
"Dancers and circus artists are still doing it tough right now. We're not doing any better and we don't have any government support.
"But Rob [MacLeod] and the team at the Potato Shed are so community focussed, and they've supported us all the way. They're fantastic.
"So that's one thing we've got on our side."
Fava also thanked council for providing work for artists on the streets of Geelong.
"They've been hiring roving artists and that's given us some work," she said.
Their latest show would also be a welcome reprieve from home-schooling their three eldest boys – one each in high school, primary school and kindergarten – along with looking after their baby boy Levi, born in August 2019.
The boys seem to be taking after their parents, who performed in circuses and on stages across the world for two decades.
"The three younger ones love roller-skating," Fava said.
"They all seem to have amazing motor skills. That's part of our workout regime, lifting up the boys."
Details: geelongaustralia.com.au/potatoshed