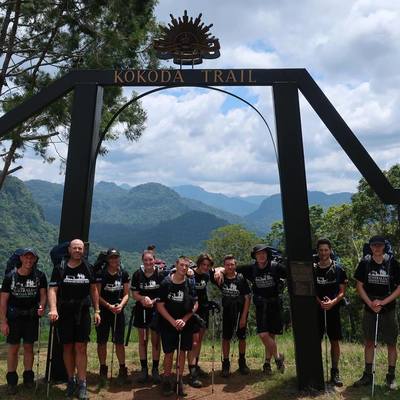 Eight Geelong secondary school students conquered Kokoda Trail alongside former boxing champion Mick O'Malley last month, for the Centenary of Armistice.
The Western Heights College year 10 and 11 students completed the gruelling 96km trek in eight days, after setting off on 11 November.
College principal Fiona Taylor praised her students' physical and mental fortitude.
"Resilience and a sense of achievement has been evident in all students and staff on return," she said.
"Our students really embraced their training over the four-to-five month preparation period, and adopted the Kokoda values of courage, endurance, mateship and sacrifice for each other."
Some students described the trek as "life-changing" while others professed their amazement at finishing it, Ms Taylor said.
"The students are enjoying their new-found confidence and appreciation for the simple life that they observed (in) Kokoda communities.
"For many of our students, this was an opportunity to disengage from the busyness of their own lives."
Mr O'Malley has trekked Kokoda 57 times and was proud to share his passion for its history with local young adults.
"All the students enjoyed the trek and it was great getting to know them all," the former Australian and Commonwealth title-holder said.
"The kids found it tough at times but they all said it was well worth it in the end. It'll be an experience they'll remember forever."
Kokoda Trail is a mountainous foot track that Australian soldiers used to fight the Japanese in Papua New Guinea during World War II.