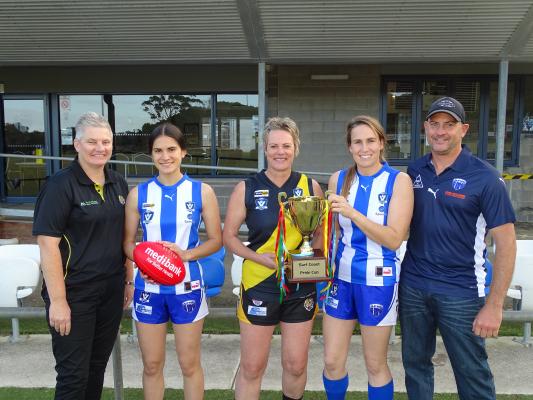 By Luke Voogt
Municipal alliance G21 and AFL Barwon have unveiled a strategy to increase diversity in local football after women's participation increased by five times from 2015 to 2019.
G21 and AFL Barwon's Towards 2030: Strategy also seeks to improve facilities, build and retain football and netball participation, and support clubs and their people.
The new draft strategy, in partnership with local clubs and councils, is a "refresh" of G21 and AFL Barwon's Regional Strategy 2015.
AFL Barwon has recorded an "exponential increase" of 424 per cent in female football participation, with 65 new teams from 2015 to 2019.
The G21 region has had strong population growth and $67 million worth of investment into football and netball club facilities, including more than 69 projects, according to the organisations.
In 2019, AFL Barwon had a higher number of players per population compared to Victorian regional averages in all age groups.
Despite a challenging 2020, overall football and netball participation has increased since then.
The organisations released the draft strategy on Monday, as Victoria's latest COVID-19 lockdown caused local competitions to be cancelled at the weekend.
"The draft strategy has highlighted a range of issues for our football and netball communities in the G21 region, particularly related to a strong growth in participation and a female footy boom," G21 chief executive Giulia Baggio said.
"We must continue to drive participation and enhance the experience of all participants, providing high quality and inclusive facilities.
"We want every person who plays netball and footy in our region to feel comfortable and welcome.
"I urge everyone to have a look at the draft strategy and have their say."
Acting AFL Barwon region general manager Sean Atkinson described the draft strategy as an "incredibly valuable document".
"It's a great thing for the region, which will guide planning and development moving forward," Mr Atkinson said.
AFL Barwon Commission chairman Craig Keating said the document would build on the success of the 2015 strategy.
"It will provide a cohesive framework for community clubs and local and state governments to work together to build sustainable infrastructure that will support participation and growth where it is most needed," Mr Keating said.
The strategy is open for public comment at g21.com.au/about-g21/engagement until July 11.