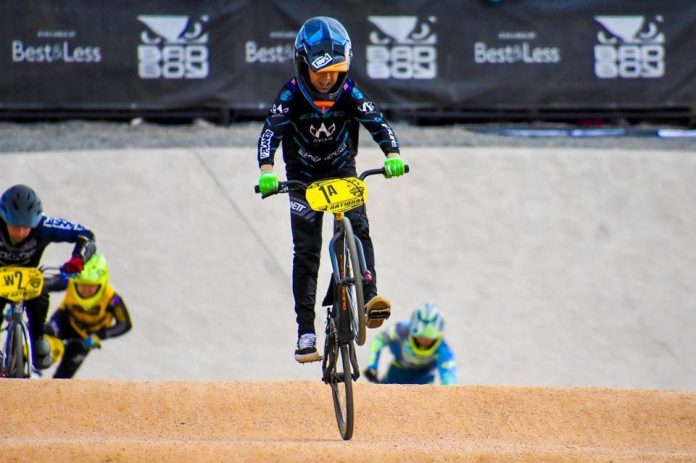 By Natalee Kerr
An 11-year-old member of a Geelong BMX club will compete in the sport's world championships next month.
Geelong Thunder's Cameron Gatt will take on the world's best riders in Belgium after a series of national victories.
Cameron, who lives in Wyndham but rides with the Moolap-based club, headlined Geelong's star contingent at the Australian BMX Championships in Shepparton last weekend, winning the 11-boys title.
The victory was his third consecutive national title and booked him a place in the world championships.
Cameron's mum, Michelle, said her son outlasted the reigning world number one, two and three in Shepparton.
"He was up against really tough competitors and he smashed them all," she said.
More than 1500 entrants from almost 100 clubs across the country competed last weekend, with 20 riders flying the flag for Moolap-based Geelong Thunder.
Ms Gatt admitted she "always gets nervous" before her son races.
"The start of the race I never watch – I just close my eyes," she said.
"But it's great to see his transformation. Something clicks when he rides and his maturity really comes out."
Cameron said he first became interested in BMX riding at the age of six.
"We went down to a local parade and there were some kids BMX riding," he said.
"I remember I turned to dad and said I wanted to quit soccer and start BMX riding instead."
Cameron has been dedicated to the sport ever since, even despite a major setback a few years ago when he broke his collarbone during a warm-up.
He now holds four national and three world championships after earning his first world title at the age of seven.
Cameron said his favourite part of the sport was competing.
"When you're competing you need to do your best and you know if you mess up you've let yourself down but you just keep trying," he said.
"The first-half of the race you don't want to show your competitors what you've got and then the second half you just blitz it."
Cameron said he wanted to continue BMX riding and one day represent Australia at the Olympics.
"I'd like to win an Olympic gold medal in BMX for Australia. That would be really cool," he said.
Fellow Geelong riders Simon Anderson and Brian Alexander also claimed victories at Shepparton on the weekend.