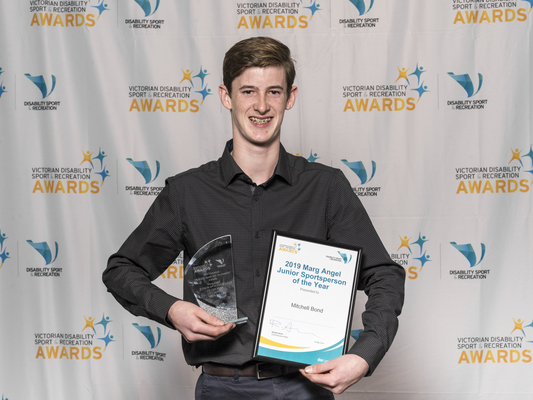 By Natalee Kerr
A rising basketball star was among three local winners of 2019's Victorian Disability Sport and Recreation Awards.
Leopold's Mitchell Bond won Junior Sportsperson of the Year last week for his involvement in wheelchair basketball.
Mitchell was aged six months when he contracted rare neurological disorder transverse myelitis, which partially paralysed his legs.
But the setback failed to deter him from enjoying sport, including nine years of wheelchair basketball so far.
The 16-year-old was "honoured" to win the award.
"It's great to be able to represent the Geelong community and push for disability inclusion," he said.
Mitchell, a year 10 student at St Ignatius College, began playing basketball aged seven.
"I just love the grit and grind of the sport. Also, the support I've received from my teammates and the network of friends I've made has been really great."
Mitchell was in an under-23 Australian Wheelchair Basketball Squad last year and competed in the sport's national championships.
He also acts an assistant coach to 20 children in junior development programs for wheelchair basketball.
"I just to try to get other kids interested in the sport and show them that they can do it."
Mitchell's "big dream" was to represent Australian Paralympics at the World Championships, he said.
Grovedale's Jenny Forssman won the awards' Official of the Year for her work in special gymnastics.
Jenny has spent more than 10 years officiating at local, regional, state and national events. She also influenced the inclusion of gymnastics for people with disabilities in the sport's Victorian championships for the first time in 2017.
"It was great to get a result and no longer have that separation," she said.
Athlete, role model and coach Tamika Simpson won the awards' Lifetime Achievement award for her career in gymnastics.
The 33-year-old is the most highly decorated Special Olympics gymnast in Victoria, with 28 years' experience.