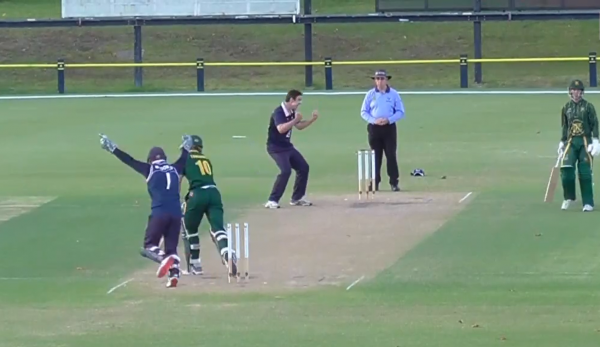 By Luke Voogt
Geelong has made the Victorian Premier Cricket finals with a thrilling eight-run win over Northcote, despite losing Gus Boyd and spearhead Brodie Couch to COVID-19 precautions.
Boyd was isolating after a recent work trip to Brisbane, the site of Australia's latest COVID-19 outbreak, while Couch travelled there to represent Victoria in a one-day game.
Northcote sent the Cats in amid blustery conditions at Geelong Cricket Ground last Saturday.
Geelong reached 37 before captain Eamonn Vines was caught behind for 27.
The Cats then lost Josh McDonald (8) and Tom Jackson (1) in quick succession but Tyler Larkin fought for 23 off 70 before holing out to midwicket, getting the cats to 4/112.
Younger brother Josh Larkin provided some support for remaining opener Hayden Butterworth, who was also caught at midwicket on 86 (5/170).
Josh Larkin was next to go after a quick 36 off 33 getting the Cats to 6/188 off 47.5 overs.
Lower order batsmen Tom O'Connell, Jack Wrigglesworth and Dom McGlinchey scored 22 off the last 13, getting Geelong to 8/210.
Josh Garner dismissed Mark Phelan and Joshua Sundberg, and Northcote were reeling at 3/40 when Jack Lalor edged a leg side ball to keeper Josh McDonald.
But opener Steven Taylor and Tearan Gleeson turned the tables with a 93-run fourth-wicket stand.
Tom O'Connell got the breakthrough with a full toss that Gleeson lobbed to the mid-on fieldsman (5/133).
Josh Larkin backed up his batting with tight off spin dismissing Jonty Rushton caught behind for 5 (6/169) and McGlinchey trapped Aaron Crispe LBW for a duck (7/170).
Taylor reached triple figures, but shortly after tail-ender Blayde Baker ran himself out at the end of the over attempting to keep Taylor on strike (7/172).
McGlinchey, Garner and Larkin restricted Northcote to 30 off the next seven leaving the Dragons needing 10 off Larkin in the final over.
Taylor was run out attempting a second run on 120 and Michael Edwards hit the next ball straight to Larkin, who ran out Topp after he charged down the pitch.
With Northcote still needing nine off the last two Larkin clean bowled Roby Lane for the win.
The win sets up an exciting clash of bat versus ball in Geelong's (5th) qualifying final against St Kilda (4th) at Harry Trott Oval on Saturday, with Boyd and Couch set to return.
Geelong leads the league in runs for while St Kilda has the least runs against.
If Geelong's two-wicket win against St Kilda in round 13 is anything to go by, this could be another close one.