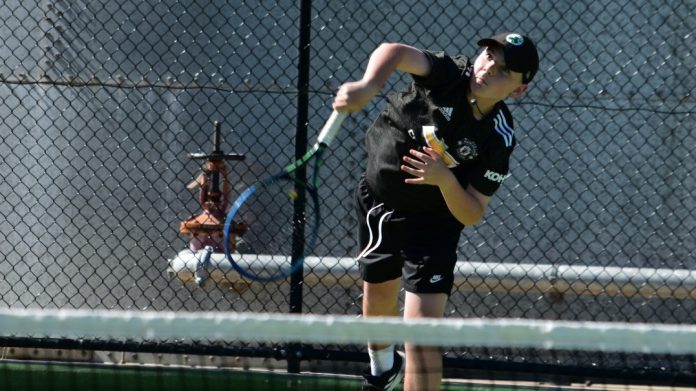 LOCAL TENNIS Donna Schoenmaekers
The Section 5 boys played a gripping round of tennis on Saturday, with three of four matches decided on games alone.
The three matches finished on three-sets-all, with the home team prevailing in each on games.
Centre Court hosted All Saints Anglican in a match that was even throughout the day.
The sides were at two-sets-all following the doubles and the first two singles rubbers.
The last two singles sets made the difference, with Centre Court's Zane Ryan dominating his 6-0.
Alexander Williams won the other set convincingly 6-2 for All Saints Anglican, but the games he dropped allowed Centre Court to clinch the win by two games.
Wandana Heights versus Highton was close too, with three sets decided by tie-breaks.
Highton started well taking the first two 6-5 and 6-2, but Wandana fought back taking the next two 6-5, 6-0.
With a two-game lead, ladder leaders Wandana went down in the first doubles 5-6, but fought back for a 6-4 win in the second to draw level on sets and seal a three-game victory.
Clifton Springs closed the gap with third-placed Grovedale this week by eking out a two-game win.
Clifton Springs' Jesse Ballagh and Grovedale's Callum Henderson had epic battles in their sets with Ballagh winning the singles 6-4.
But Henderson, combining with Will Clayton, took the honours in the doubles via a tie-break.
The remaining singles matches were all decided 6-1 with two to Grovedale and one to Clifton Springs, but a 6-0 win by Clifton Springs in the final doubles set put them over the line.
The final match of the round saw second-placed Leopold take a 4-2 win over bottom-of-the-table Aireys Inlet.
Leopold took a 3-1 lead in the singles with only a three-game buffer, but sealed the win with a 6-0 win in the first doubles. Aireys finished well, however, taking the final set 6-4.