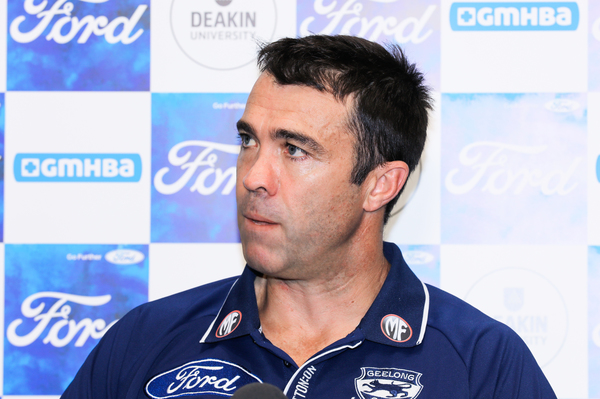 By Natalee Kerr
Geelong coach Chris Scott is confident his side can get back on track ahead of finals despite a drop in form following the mid-season bye.
The top-of-the-ladder Cats sat on a 11-1 record ahead of the bye but have since lost three of the past five games.
But Scott suggested facing down-periods was a normal part of the season regardless of a side's position on the ladder.
"The ladder's deceiving," he told this week's media conference at Kardinia Park.
"You'd be much better served looking at the previous couple of weeks and basing your assumptions and forecast on that form opposed to the previous 15 or 16 weeks.
"I can't really think of anyone off the top of my head that hasn't gone through the ebbs and flows throughout the season, and we're clearly one of them.
"We feel as though we are not playing our best but we've got time to arrest that."
Geelong faced another defeat last weekend, a 24-point loss against a bottom-eight Hawthorn at the MCG.
The Hawks had the upper-hand from the outset, dominating the premiership favourites for most of the contest.
Scott said his side were simply "outplayed" by Hawthorn.
"I didn't think we played very well, I think they had control of the game particularly in the first half," he said.
Hawthorn had 12 inside-50 marks to the Cats' three in the first half, as Geelong played the ball safe and failed to put the Hawks under pressure.
Geelong managed to get back within 11-points during the third quarter, but three misses from set shots in the last term proved costly.
"In the second half, I thought we did control the game and we had more than enough chances to win," Scott said.
Scott said conversion was a "big part" of the issue as the Cats kicked eight goals against the Hawks' 12.
"We generated some opportunities that we blew," he said.
Geelong will now face fifteenth-placed Sydney at the SCG this Sunday.
The Cats will be looking to claim a clean sweep over the Swans, after taking home a 22-point win against them earlier this season.
Meanwhile, the Swans will be eager to snatch a win to turn around their three game losing streak, the most recent being a one-point loss to Fremantle last Saturday.