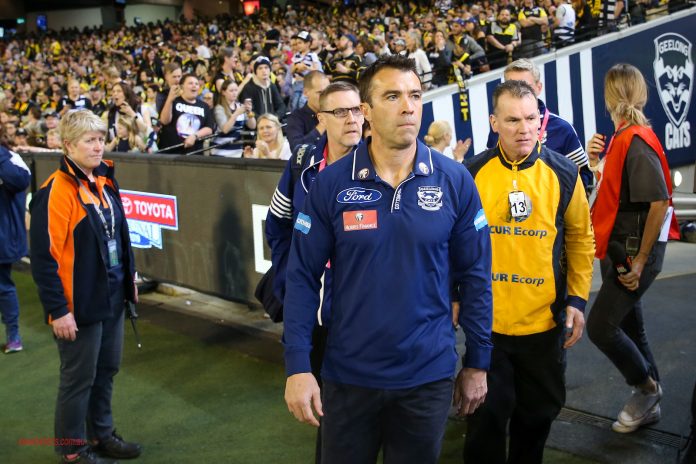 By Natalee Kerr
After an impressive season that resulted in a top-of-the-ladder finish, Geelong had arguably its best shot to end a recent string of finals knockouts.
But while last Friday's 19-point preliminary final loss to Richmond dashed the Cats' premiership hopes for another year, it was also a metaphor for their season.
Despite winning 16 games and securing the minor premiership, Geelong's 2019 home-and-away season has been a tale of two halves.
Following a dominant 11-1 start to the year, the Cats struggled to find consistency following the mid-season bye, going loss-win for their last 13 games including finals.
In a similar fashion last Friday night, the Cats looked dominant early on.
Geelong surged to a 21-point lead at the main break, but despite a strong start, the Cats could not resist the wave of Tiger pressure for long enough.
Richmond ran rampant in the second half, kicking five goals straight to begin the third term that led to an inspired comeback victory.
Dejected coach Chris Scott conceded post-match his side was "not good enough" after giving up their half-time lead.
"I understand completely the emotional investment that Geelong people commit to and its brutal when it doesn't work out, it's frustrating and heartbreaking," Scott said.
But he refused to go into "too much detail" about the loss or disclose his message to his players post-match.
"We're disappointed, so it's not the time to elaborate too much because we're not as clear-headed as we'd like to be," he said.
"We're just not in the business of explaining that to people, I don't think that's our role."
But Scott admitted he was frustrated with the Cats' inability to hit the scoreboard in the second term.
"There were things in the third quarter that will take a long time to get over," he said.
"We didn't challenge them enough and that's going to be difficult to come to terms with because we showed in the first half, in particular, that we had the capacity."
The loss added further heat to the future of Geelong's playing group with speculation surrounding the potential departure of key figures including veteran Gary Ablett and young gun Tim Kelly.
But Scott declared it was "not the time" for discussion about Ablett and declined to elaborate about the future of an out-of-contract Kelly.
"I've got absolutely no control over what's going to go on…but if the question is would you like to keep him? I'd fight tooth and nail to do that," he said.
Scott said that although the Cats weren't good enough to contend for the ultimate prize he still had optimism going forward.
"We are proud of them, it's clear whatever our failings, we've got a group of players that don't give up," he said.
"When the dust settles, we'll rue the opportunity lost, but we'll look to find a way to improve."
Richmond will now meet Greater Western Sydney in next Saturday's grand final.
It marks the second time in three years that the Tigers have made the clash, while it will be the Giant's first grand final appearance since the club formed in 2012.