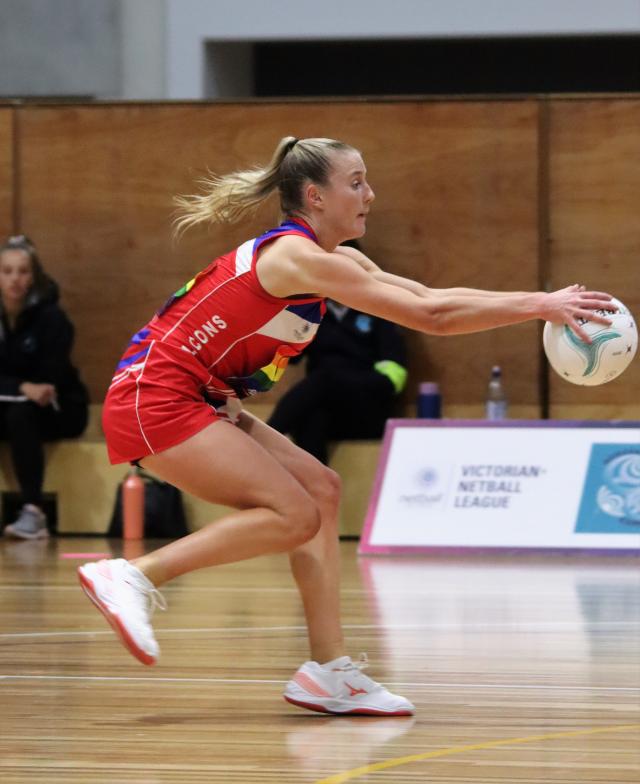 Matt Hewson
St Albans centre Montana Holmes was the stand-out player for her side in a convincing 20-goal home win over St Joseph's on Saturday.
The star midcourter was important at both ends of the court, providing both turnovers defensively and incisive transition to the St Albans offensive line of Tharjini Sivalingam (55 goals) and Madelyn Gray (15 goals).
The home side took an early lead in the match, leading 16-11 by quarter time, and continued to steadily outscore St Joseph's throughout, finishing with a 17-8 final term to finish victorious 67-47.
St Albans coach Josh Smith said he was extremely pleased with the way his side had maintained its focus and intensity for the entire match.
"I was very happy with the win against Joey's, they're a bit of a threat with some real potential to be dangerous," he said.
"It was nice to get a win over them, and to do it so convincingly was nice as well.
"We built slowly through the match, and the best part was I never felt like we were going to lose."
Smith highlighted Holmes' efforts down the length of the court.
"She was massive in defence, and also really steady on the feed to our shooter as well," he said.
"She's been great value these last two seasons, we're lucky to have picked her up."
Smith also praised his defensive line of Lucia Fauonuku and B grade call-up Amy Cook.
"Lucia was just a pest, which is what a good goal defence is," he said.
"She was involved in everything, doing all this great work at the front which meant that by the time their shooter had a shot they were just completely puffed because Lucia was making them work so hard.
"We also didn't have Majar (Hikuroa-Betham) or Achel (Yout), so we had our B Grade goal keeper Amy Cook come up to start, and she played really, really well.
"We've called on the depth in our squad a few times this year, and they've all performed really well."
The win keeps St Albans in third spot, level on points with Colac and just one win behind Newtown & Chilwell, and Smith said his players were meeting his high expectations for the season.
"Coming into this year, we wanted to win," he said.
"We knew we had the potential, and we're tracking really well with that. I think we're hitting our straps at the right time.
"It's really important for us that we start consolidating in this latter half of the season. We've had losses against Colac and Geelong West, which in both weeks we were affected by illness, injury or COVID, so we need to make sure we finish this season off with wins against the quality sides."
Smith said his side would focus on the basics when St Albans host eighth team St Mary's this week.
"Fundamentals win you games, so we'll be focusing on doing the simple things right and keeping our intensity up for the full 60 minutes," he said.
In other GFNL games A grade games last weekend Colac defeated Lara 87-26, Bell Park won away against Leopold, Newtown & Chilwell beat St Mary's, and Geelong West Giants lost by five goals at home to South Barwon.