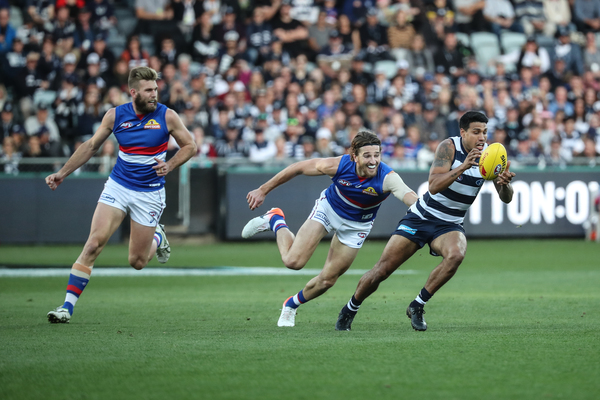 By Natalee Kerr
Despite coasting to a fifth-straight win last weekend, Geelong coach Chris Scott believes his group still has more to work on ahead of the Cats match with the Suns this weekend.
"I think it's timely for us to take a step back and have a look at the parts of our game that aren't working as well as we'd like them too," he said after last Saturday's victory.
It was a point that Scott continued to emphasise in his press conference on Wednesday.
"AFL games are hard to win, the industry is relentless," he said.
"I just don't subscribe to the theory that we're in ripping form and that we can just go play anyone and beat them."
Geelong claimed their ninth win of the season with a 44-point victory against Western Bulldogs last Saturday at GMHBA Stadium.
The Bulldogs kept up with the Cats and managed to cut the margin to nine points early in the final term before Geelong kicked six-straight goals.
Scott said his team's scoring accuracy, which is the best in the competition, was a deciding factor in the win.
"It was our efficiency going inside 50 and in front of goal that was really the difference," he said.
"It's a terrible look to suggest that we haven't played that well but we've still won by 40 points.
"But the fact is they had their chances in front of goal and weren't able to take them. It wasn't that we're a much better team."
The ladder-leaders have dropped one game this season, giving them their best start to the season since 2013.
The Cats will now travel to Queensland to take on Gold Coast Suns this Saturday.
After three-straight wins earlier this season, the Suns have struggled since losing their past five games, including a 38-point downfall to Port Adelaide last Sunday.
Geelong has an undefeated away record this season and has won the past eight out of 10 games against the Suns.
Although the Cats enter the game as clear favourites Scott said they would not approach the Suns lightly.
"Gold Coast have had so many close games this year, they certainly haven't been blown away," he said.
"To beat them you actually need to take the game away from them – they won't roll over and give us anything at all."
Scott will coach his 200th match for Geelong on the weekend, a milestone he admits "snuck up" on him.
"If you start looking back too much you sort of miss what's coming up," he said.
Scott will become the third Geelong coach to reach the milestone, joining Reg Hickey (304) and Mark Thompson (260).
"I'm much better at the job than I was when I started. I still feel like I'm young in my coaching journey," he said.
"(But) my plan is to make it about the team, not too much about me and keep getting better every day."