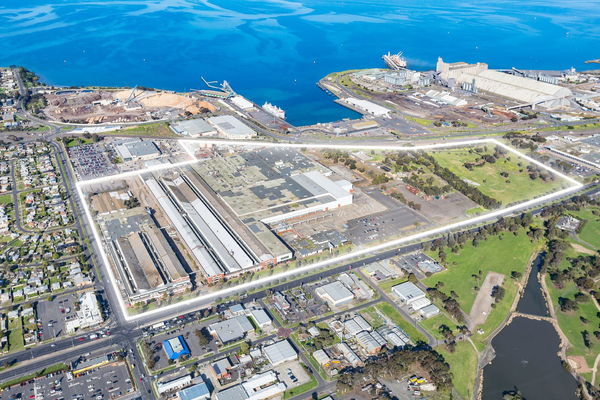 Multi-million dollar redevelopments of Geelong's and Broadmeadow's former Ford factories could create up to 5000 jobs, the sites' new owner has estimated.
Pelligra Group representatives visited the Geelong factory on Thursday after purchasing it from Ford last week to develop it into a hi-tech manufacturing hub.
Company chairman Ross Pelligra anticipated the first manufacturing tenants would start work on site within a year.
"We are committed to ultimately delivering 4000 to 5000 jobs in the next five to 10 years," he said.
The family-owned property developer has committed an initial $500 million for stage one its FORTEK Geelong and ASSEMBLY Broadmeadows projects.
Ford put the factories up for sale last September and industry sources at the time estimated their total worth at $75 million.
The Indy understands the sale price to exceed that amount.
A spokesperson for Pelligra Group confirmed the $500 million deal included the sale price but declined to reveal the exact figure.
Pelligra will subdivide the FORTEK and ASSEMBLY sites, with Ford to retain its research, design and engineering facilities.
Stage one of the projects would create up to 2000 jobs in Geelong and Broadmeadows, Mr Pelligra estimated.
"Through our investment in the area, we intend to help rejuvenate and grow the local community, and create industry-leading hubs with world-class innovation, engineering, and manufacturing on site."
Pelligra Group's plans for the sites and appreciation of their histories were the key reasons for the company winning its bid to purchase them, Mr Pelligra said.
"FORTEK Geelong and ASSEMBLY Broadmeadows are significant historical manufacturing sites."
Ford would retain its You Yangs proving ground where about 1600 of its 2000 Australian employees design and develop vehicles, the company announced.
Ford would invest more than $500 million in 2019 in Australia, directly supporting its operations in Geelong, Lara and Broadmeadows, Ford Australia and New Zealand chief executive officer, Kay Hart said.
The sites had played a central role in Australian automotive history, Ms Hart said.
"We are pleased that Pelligra Group will build on Ford's ongoing engineering and design presence by adding new opportunities for innovation, ideas and business in Geelong and Broadmeadows."
The two sites occupy a combined area of 100 hectares, including more than 265,000 square metres of factory floor.
Pelligra will retrofit the existing infrastructure to accommodate manufacturing and technology businesses, with the first tenants anticipated to be on site within a year.