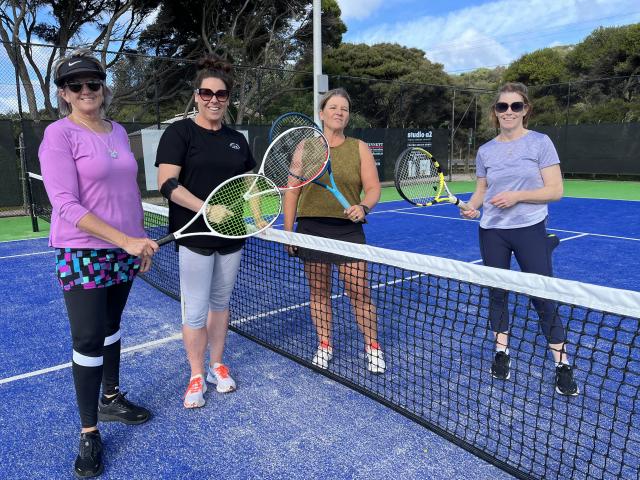 Donna Schoenmaekers
It was the last round of the home and away series for Tuesday's midweek pennants for the majority of sections.
In Section 4, finals positions were still up for grabs, with even Point Lonsdale in seventh a chance to stay in the running, only four points behind fourth placed Mount Moriac.
Surfcoast Torquay Yellow set itself up well going into the last round, guaranteeing itself the minor premiership despite having the bye, so it was able to sit back and watch the remaining teams battle it out.
Yellow's counterparts, Torquay Black, sitting in second with only a mathematical chance of dropping out of that spot, came up against fifth placed Eastern Districts, which was hoping for a good win to push itself into the four.
The match started with Melissa Coulsell and Winsome Batchelor winning through for Black 6-3, while Districts kept its run alive with Shelley Gioffre and Kylie Cameron taking the second set 6-1.
Gioffre continued her winning way teaming with Delwyn Foster in the third set taking it 6-2, but Black countered in the fourth with Batchelor winning her second set with Kelly Powell 6-4.
Districts was hoping for a strong finish in the final two sets to close the gap to fourth placed Mount Moriac, but with the sets going one each way, and Districts finishing with a win at three sets all with a four game advantage, it was reliant on the results of other matches to determine its fate.
Point Lonsdale looked like it was primed to make a run for a finals finish, coming up against third placed Ocean Grove this week, however, with a player short this chance was dashed.
Despite this, the Lonny ladies won two of the three sets played and had a narrow defeat in the third with the Grove's Clare Stephenson and Jacqueline Moore taking the win in a tie break.
The final match of the day was Mount Moriac against sixth placed Barwon Heads.
With only 4.5 points between them, the Heads were presented with a great chance to move themselves up the ladder, however, Mount Moriac had other ideas.
Kerry Pickering and Denise Matthews battled for the first set 6-4, while Jenyce Hosking and Julie Robertson had a comfortable 6-0 win in the second, ensuring Mount Moriac retained fourth spot, and a match up against Ocean Grove next week.
The team then showed it is finding some good form, taking the remaining four sets to end with a clean sweep for the day.