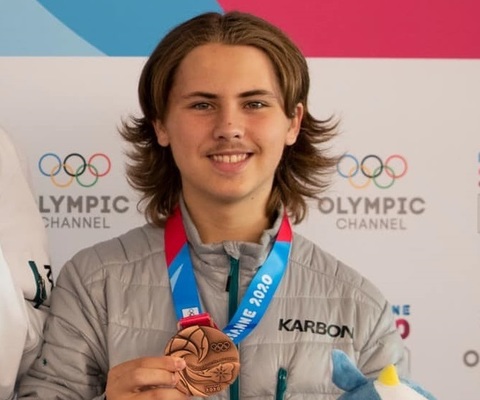 by Luke Voogt
Grovedale ice hockey player Sai Lake has won bronze at the Winter Youth Olympics following his team's thrilling come-from-behind win in the third-place playoff.
"I'm lost for words, it was amazing!" he told the Independent from Lausanne, Switzerland, last week following the 6-5 win.
Sai was one of two male and four female Australians to earn selection for the National Olympic Committee (NOC) 3-on-3 competition.
The inaugural competition mixed players from different countries into eight teams to give athletes from "developing ice hockey nations" a chance to compete.
"My friends, when I told them, were in utter disbelief because not many Australians get selected for the games, let alone for ice hockey," Sai said.
"My family are extremely proud of my achievement and cannot believe the opportunity I've gotten."
Sai played in 'Team Brown' alongside players from New Zealand, Hong Kong and across Europe, notching up 14 assists (passes resulting in a goal) for the tournament.
"Most of those countries play at extremely high levels, which are much higher than Australia, and (their players) are all extremely skillful," he said.
Sai had an important three assists in the bronze playoff, which organisers described as match of the tournament.
After the heartbreak of losing the semi, Brown opened with a goal in the first 30 seconds. But the opposition, Black, then scored three consecutive goals.
Brown retook the lead in the second period and went into the last intermission leading 4-3.
Black fought back with two goals, before Brown equalised and then won with a goal in the dying seconds.
"It felt amazing to play with people from all over the world, let alone win a medal with them," Sai said.
The 15-year-old plays ice hockey in an adult Melbourne 'beer league' and has represented Australia three times in inline hockey (on rollerblades).
"I started my hockey journey with roller at the age of five at Rollerway Newtown and I started playing ice at 10," he said.
"By the time I started playing ice I had already represented Victoria at the inline nationals."
The off-season beer league features players from the Australian Ice Hockey League, the best competition in the country.
The left-winger also plays ice hockey against some of Australia's best under 17s during winter.
"Which, as you can imagine, is fast and intense," he said.
The bronze medal comes after Sai took on a gruelling physical training program in preparation for the Olympics.
He dreams of playing for the Toronto Maple Leafs in the National Hockey League (NHL) alongside favourite player Auston Matthews.
In 2017 Nathan Walker became the first Australian to play in the NHL, showing the possibility of Aussie juniors skating that path.