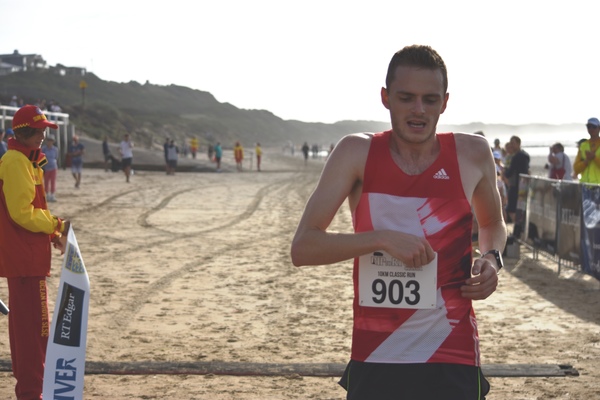 Endangered birds could force organisers to alter the course of this year's Rip to River Classic between Ocean Grove and Point Lonsdale.
The altered course would run around a temporary exclusion zone to protect a pair of hooded plover chicks nesting on the beach, said the president of the town's lifesaving club.
"As at 9 December, there were two plover chicks nesting near 17W, west of Ocean Grove main beach," David Pavia said.
"If all goes well and they are still there in late December there will likely be course changes to accommodate them.
"This will be confirmed very close to event day, after consultation with Barwon Coast and Birdlife Australia."
The 39th Rip to River Classic, which takes place on Saturday 29 December, is Ocean Grove Surf Life Saving Club's biggest annual fundraiser.
Last summer's Rip to River was moved from 6 January to 18 February after extreme heat forced the event to be postponed.
Pavia was confident numbers would increase for the 29 December date to cater for holidaymakers flocking to region over the Christmas and New Year break.
"Numbers were down last summer due to a re-scheduled date in February," he said.
"In the history of the Rip to River, last summer was the first time the event was postponed, and hopefully we will have better luck this summer."
He said Ocean Grove SLSC required up to 150 club volunteers on the day to assist with course set up, logistics, medical first aid, patrollers on water stations and members helping with registrations and catering.
Start times are for a later 9am start for the 10km Walk which gets under way at Point Lonsdale beach, while the 5km Run begins at Ocean Grove main beach due to a low tide.
The 10km Classic Run commences at Point Lonsdale beach below the lighthouse at 9.30am, while the 1.4km Ripper Nipper run starts at Ocean Grove main beach at 9.30am.
Entries are open online at registernow.com.au/secure/Register.aspx?E=28692 until 30 minutes before the event starts.
Organisers will run a registration day between 4pm and 7pm on 28 December at a Rip to River marquee near the patrol tower at Ocean Grove main beach for all events.
Adult entries cost $50, with juniors from $20.