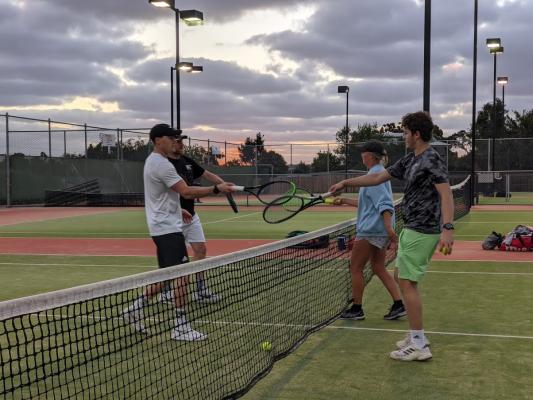 Grovedale 4 has won the top division of Tennis Geelong's night-time triples competition.
The side took out the top prize in last Thursday's finale to the spring season, which featured some high-quality tennis despite unseasonably chilly temperatures.
After a dominant 6-0 regular season, Grovedale 4 triumphed over Highton Wallabies in the section one grand final 3-3 on sets and 32-25 on games.
The Wallabies seemed poised for a potential upset after taking the first two sets in tiebreakers.
Julius Busch won over Bianca Duff, one of the top females in Tennis Geelong's Saturday competition, and Tim Morrison and Lachie Pike won the first doubles over Jai Bosnjak and Dave Meehan.
Morrison, a newcomer to Tennis Geelong who has participated in the Melbourne Pennant for Yarraville, played some of his best tennis of the season against Bosnjak, one of the stars at Grovedale.
However, Grovedale came right back, with Meehan taking the second singles 6-2 over Pike, and also won the second doubles 6-4.
A 6-1 third doubles win by Grovedale solidified the premiership before Bosnjak retired out of caution with a minor injury while down 5-4 to Morrison.
In other action on Thursday night, the Sijoma Aces from Portarlington won the section two crown by defeating the Wombats 3-3 27-25.
In section three, Beuzh, a team of friends from Deakin University's medical school, won 5-1 34-19 over Grovedale 3.
Section four's grand final saw the Cockatoos from Drysdale, after going 6-0 during the regular season, edging out the Magpies, 3-3 30-23.
The only upset of the night was in section five grand final where Grovedale's BITG team took out St Mary's undefeated Coco Bewares, 3-3 28-25.
The 2020 spring season had the largest participation in the competition's two-year history, according to triples secretary Tyler Krumholz.
"Tennis Geelong's triples competition is one of the most unique tennis leagues in the country," he explained.
"Its hybrid registration model allows for teams of club members, as well as individuals that are not affiliated with a club.
"With only seven-week seasons, the triples league attracts some of the top Saturday players in the area, as well as many social players that do not want to commit to traditional season-lengths."
Summer season registrations are open until early February at: tennis.com.au/tennisgeelonginc