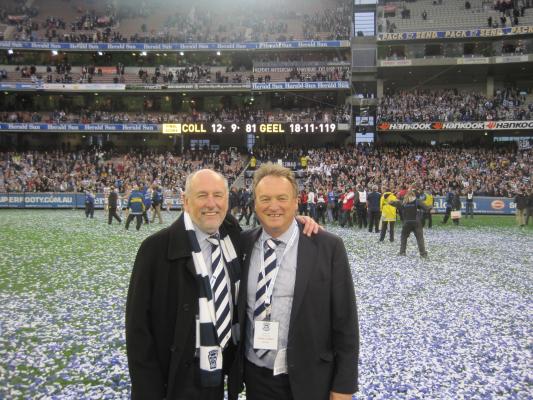 Geelong Football Club president Colin Carter will retire from the role at the club's annual general meeting on January 28, 2021, he has announced.
Carter, who has served as president for a decade, thanked Geelong Cats fans for keeping their club alive and well during the COVID-19 pandemic.
"This year our members and philanthropic donors stood behind the club in a period where the impact of COVID could have set us back a decade," he said.
"What they have done for the club was wonderful. Stick with us, we are still striving to enjoy the ultimate success again."
Carter presided over the club during its 2011 premiership, following the departure of coach Mark Thompson and then arguably the best player in the game, Gary Ablett.
The club won 69 per cent of games and played in finals nine times during Carter's time at the helm.
He also presided over more than $300 million of redevelopments and funding agreements for Kardinia Park, including the upcoming stage 5 redevelopment, membership growth of 25,000 and the creation of its AFLW team.
Geelong Cats recently sold their last gaming venue and raised nearly $20 million in philanthropic support in the past five years of Carter's tenure.
"It's easy to be proud of an organisation that has so many great people and that has been so successful," he said.
"In particular, I thank the members for their support."
Carter's involvement in the football industry began in 1985 as a consultant to the then VFL commission.
From 1988 to 1993 Carter served as a Geelong Football Club director before joining the AFL commission.
Carter had a hand in the entry of new clubs Port Adelaide and Fremantle, the decision to establish the Gold Coast Suns and GWS Giants, the merger of Fitzroy with Brisbane, the closure of Waverley Park and the building of Docklands Stadium.
Carter retired as an AFL commissioner and re-joined the Cats' board in 2008.
Craig Drummond, who has been a member of Geelong Cats' board since 2011, will take over the presidency.
Drummond has been the chief executive officer of Medibank since 2016 and is chair of Geelong Cats' finance and audit committee.