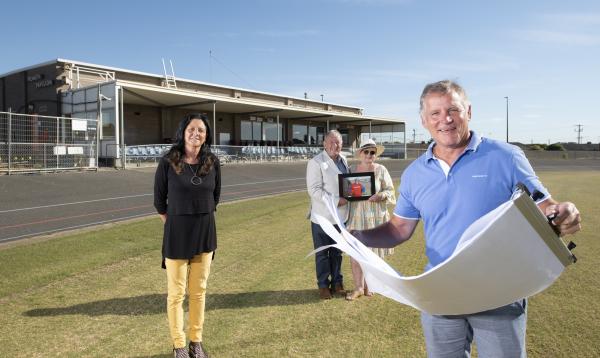 By Luke Voogt
The demolition of a 52-year-old pavilion named in honour of late Geelong West Football Club life member Bill Polwarth began two months early on Monday.
The pavilion was named after the property steward in 1994 to recognise his contributions to the club. He died last April aged 86.
Known affectionately as 'Mr Ed' around the club, Bill received an Order of Australia Medal in 2007 for outstanding service to the community and local sport.
Bill's son Terry Polwarth said the pavilion was a large part of his family's history.
"Dad was here for 35 years after he retired as a player," Mr Polwarth said.
"He was the property manager, grounds manager, and everything in-between. People would try to do his jobs if he was unable to; nobody could do it like him.
"There's a lot of history that we will never forget, it's been fantastic for the Polwarth family.
"But the new pavilion will be here for 100 years, and people will get a lot of enjoyment out of it, just like they did at the Polwarth Pavilion."
Geelong council is moving forward with plans to demolish Polwarth Pavilion in stage one of the West Oval redevelopment.
Built in 1968, the pavilion was home to Geelong West Football Club before its merger with St Peters.
Volunteers and club members assisted the build, which council supported with a $25,000 grant.
Now home to the Geelong West Giants, formally Geelong West St Peters and Geelong West Sporting Club, the pavilion will be demolished to make way for the northern carpark expansion.
Geelong West Giants chair Sarah Naylor said the club would keep the Polwarth Pavilion sign
"We plan to put it somewhere around the precinct to honour Bill and the legacy he left at West Oval."
The carpark expansion is part of a planned upgrade for the oval including a two-storey pavilion, enhanced seating, a new scoreboard and other facilities.
State government has contributed $7.4 million to stage one of the upgrade while council has put in another $3.6 million.
"The Polwarth Pavilion meant a lot to those who have spent time at West Oval," Geelong MP Christine Couzens said.
"The new pavilion will mean just as much as a new focal point for Club members and the community."
Brownbill ward councillor Peter Murrihy acknowledged the history of the pavilion.
"The pavilion has become a home to sportspeople, supporters, volunteers, and spectators for over 50 years," Cr Murrihy said.
"Many have celebrated victories, hit milestones and learned from losses within these walls.
"It's bittersweet to say goodbye to this West Oval icon, but it's exciting to see what the future will look like with the masterplan well underway."