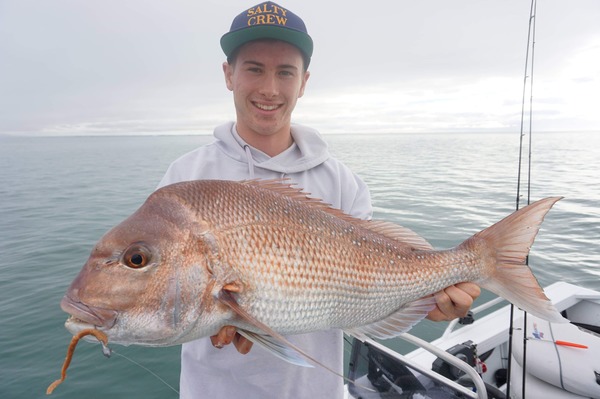 On the Bite, by Adam Van der Lugt
The past week brought a fantastic run of snapper over Corio Bay's Alcoa spoil grounds.
Owen Westwell and Peri Stavropoulos fished during the week in 6m of water while drifting and casting soft plastics. They had a session to remember, boating dozens of fish to 5kg, while also managing flathead, King George whiting and big pike as by-catch.
Clifton springs turned on some of the best squid fishing seen in a while, with some anglers able to bag out in under an hour only a few hundred meters from the boat ramp. Fishing over weed beds in 2m to 2.5m of water using size 3 squid jigs in plain white colours did the trick.
The Barwon River estuary fished well all the way from the Barwon Heads boat ramp up to the Thunder area. Angler caught mulloway, silver trevally and bream while fishing over the slack tides.
Using bass yabbies or squid with a light running sinker also worked well in the estuary, while anglers specifically targeting mulloway found success with live baits like salmon and mullet.
School Bluefin tuna were present throughout The Rip and offshore from Point Lonsdale all the way to Lorne. Anglers trolling in The Rip with rubber squid on downriggers caught tuna to 15kg, while counterparts who spotted the fish herding baitfish near the surface did well casting small stick bait lures like the Bassday Bungy Cast and the Megabass X-Bladz in any silver or bluebait colouration.
Stony Creek Reservoir, just past Anakie, produced some quality redfin, especially for Hugh Hanson, who found that casting the Daiwa Double Clutch and small stump-jumper lures worked well. Bait anglers using worms or small yabbies should also expect to catch redfin at Stony Creek.
Wurdibuloc Reservoir, near Moriac, produced similar results for anglers casting metal spoons at first light, with redfin of more than 40cm banked.
The Barwon River from Belmont up to Buckley Falls fished well for carp to 5kg caught from the bank, especially for anglers using creamed corn as berley and sweet corn as bait. Some productive locations included under the Moorabool Street Bridge, the end of West Fyans St, Newtown, and the fishing platforms near the one-way bridge at Queen's Park.