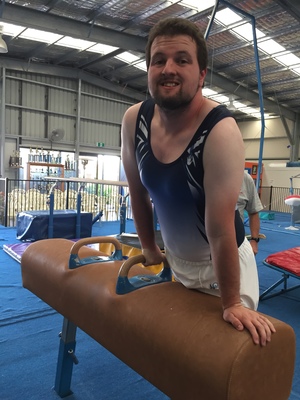 By Gill Cooper
Grovedale gymnast Patrick Forssman says he is "excited" to be competing in the Special Olympics World Games involving over 190 nations in Dubai and Abu Dhabi this week.
The 24-year-old, who has autism, joins 7500 athletes competing in 24 Olympic-style sports in nine venues in what's billed as 'the largest sports and humanitarian event of the year'.
Patrick flew with the Australian gymnastics team from Sydney to the United Arab Emirates last week after his family and supporters helped him raise $7500 to make the trip.
His competition started in Abu Dhabi on 14 March)following a week of training in Dubai with Australian national coaches and a grading day.
Proud parents Fred and Jenny have also flown to the United Arab Emirates in to cheer him on from the stands.
Patrick is part of a team of six gymnasts among 105 Australian athletes represented across 11 sports at the 2019 Special Olympics World Games.
He has been doing the hard yards training for several months with his Dad encouraging him to persist on the six apparatus for competitive gymnastics – rings, floor, vault, high bar, pommel and parallel bars. Patrick also plays basketball to keep fit.
"He is strongest on the pommel and rings and has been training harder now up until the Games," Fred said.
"Patrick's performance at the last National Games in Adelaide got him selected. That and meeting the criteria for the Special Olympics gives anyone a chance to do their best and go.
"It's an opportunity to shine. Lots of families are offered the opportunity to participate but not everyone can afford to take up the invitation."
Fred said Patrick's training sessions at Aerosport Allstars in Grovedale had been possible due to owner Justine Bratanavicius' generosity in providing him access to her gym facilities.
Patrick said his dad could be a hard coach "sometimes" but it was good to have someone who cared for him supporting his preparation for the Games.
"I'm really looking forward to meeting all the other athletes," he said.