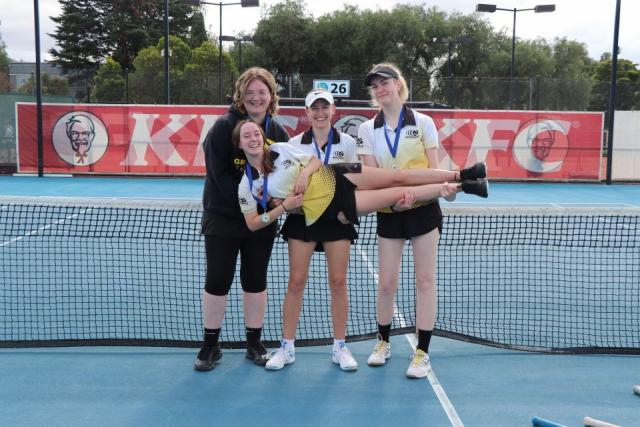 Donna Schoenmaekers
The delayed summer season for Tennis Geelong's junior pennant culminated with 25 grand finals played across the association last weekend, with 16 clubs competing.
There was a good spread of clubs taking home their section flags, with many of the traditional larger clubs making way for the emerging ones.
Barwon Heads had a successful day winning four of its six finals.
The club showed its depth in the junior ranks winning at both ends of the boys' competition with Section 1 and Section 15, along with Sections 8 and 12, with 15 winning through as champions.
Section 3 and 5 girls competed well but went down 4-2 and 3-3 by two games respectively.
Jack and Olivia Remilton pulled off a family double with Jack part of the winning Barwon Heads' Section 1 team, and Olivia undefeated in singles and doubles, lead her Section 3 girls team to the win for Drysdale.
Drysdale took a trifecta with wins in Section 2, 3 and 4 girls, with both 2 and 4 bouncing back after losing the first semi-finals in each, to become premiers winning 4-2 and 6-0 respectively.
The combination team with Clifton Springs also backed up its minor premiership in Section 9 boys having a 5-1 win over Geelong Lawn.
Geelong Lawn had 12 of 18 teams make finals this season. Eight made it through to Saturday
and Section 4, 6 and 14 boys prevailed on the day, all with four sets to two wins.
St Mary's had a great day chalking up four victories, in girls' Section 7, 8, 10 and boys' Section 10, and barely missed five from five with Section 13 boys going down by six games at three sets all to Highton, with Section 7 girls going through as champions.
Highton had a quiet day with three teams playing, and the one win in Section 13 boys.
Grovedale also had a quiet day notching up the one win, taking the Section 1 girls' title, while going down to Ocean Grove 4-2 in Section 3 boys.
The Grove took two of its three matches with Section 11 boys also taking its match 4-2.
All Saints' girls did their club proud taking home Section 6 and 9 premierships, while Section 6 boys fought hard, but went down 4-2.
Point Lonsdale continues to improve its presence in the competition with three teams making it through to the final day.
Section 10 girls and Section 15 boys put up a good fight but went down 4-2, while Section 5 boys won a nail-biter at three sets all with a three game advantage over Centre Court.
Moriac took out Section 2 boys with a convincing win over Wandana Heights 5-1, Inverleigh's Section 5 girls backed up its win in last summer's Section 5, winning as champions in a close three sets all two game win, and Surfcoast Jan Juc's Section 7 boys clinched a tight one against St Mary's three sets all and six games.
The season finished well, and with the winter season just around the corner, players are looking forward to getting back on the court for more great tennis.