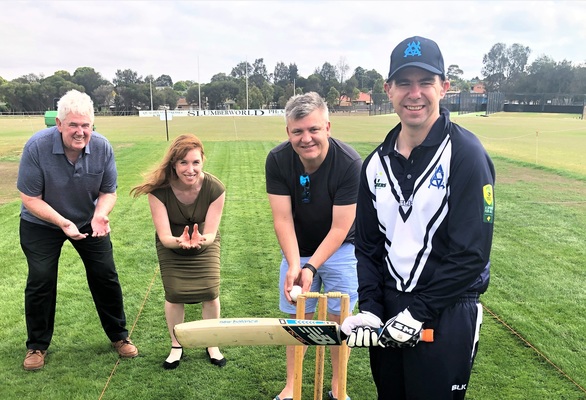 by Luke Voogt
Australia's top disabled cricketers descend on Geelong this week for the National Cricket Inclusion Championships.
Local graphic designer Travis Zimmer will take to the pitch for Victoria in a division for the blind and visually-impaired.
"This is my first year," the excited all-rounder said.
Zimmer has retinitis pigmentosa, a condition affecting peripheral sight and causing 'tunnel vision'.
The condition began affecting his eyes about age 14 and now limited his vision to five degrees, he explained.
Zimmer's division is one of four in the competition and involves a ball with a bell inside.
"(The bell) does not help me at all!" he said.
"We've got a cricketer in the side who's better than me and it doesn't help him either."
While players must bowl underarm, bowlers could still reach speeds of about 80km/h, Zimmer said.
"It can be quick and you've got a short amount of time to make a decision."
The event, in Geelong for the fourth consecutive year, features players from across the country playing T20 matches at nine ovals across the city.
The competition also includes male and female divisions for the deaf and hearing-impaired, along with a division for cricketers with intellectual disabilities.
"It's definitely one of my favourite sporting events on the Geelong calendar," said Sarah Mansfield, council's social inclusion chair.
"Players come from across the country and represent their states with passion. All-in-all the week is a brilliant celebration of sport and inclusion."
The competition's grand finals take place on Friday at McDonald Reserve in Belmont. The event is a joint effort between Cricket Australia and Geelong Cricket Association.