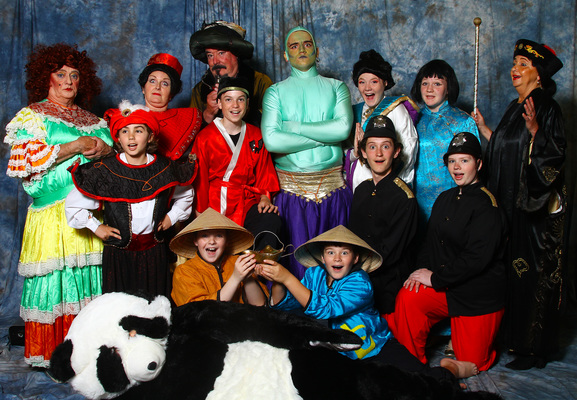 by Luke Voogt
Life has been a wish come true for Matthew King, who plays the evil Abanazar in a local production of Aladdin.
The voice-over man of 30 years describes himself as one of the lucky "two percent" who have made a living in the industry.
"I've been one of those very fortunate actors who was able to make a good living doing voice-overs and some acting in-between," the 67-year-old said.
At about age 20 King rejected an offer of a "real job" in advertising to chase acting.
"I decided then was the time to make the jump if I was serious – and so I did," he said.
He went on to work for Melbourne Theatre Company, do voice-overs for legendary TV personality Bert Newton and appear on Hey Hey It's Saturday's Red Faces.
He also featured in several ABC dramas – the last being Menzies and Churchill at War in 2011.
At one stage he and a colleague were doing most of the voice-overs on Australian TV, he said.
"When I think about all the voice-overs over the years, it's thousands."
After decades in the industry King was no stranger to impersonating villains such Abanazar, the basis for Jafar in Disney's film.
He demonstrated an evil laugh of "mwahaha!" that would have made Dracula proud during an interview with the Independent.
"Abanazar's very nasty and doesn't care about anyone's feelings," he said.
"It's always great playing the evil one because you can have fun with it! You get to teach the kids to boo and hiss and 'look out he's behind you' – that sort of stuff.
"You don't have to be a mister goody two shoes! And there are lots of gags in it – probably half that the kids won't get."
King plays the ruthless antagonist in Queenscliffe Lighthouse Theatre Group's version of Aladdin, which pays homage to the classic tale's Chinese origins.
He joined the company about 15 years ago after moving to Queenscliff.
The veteran actor was an occasional mentor to some of the pantomime's younger cast members.
"Some of them are terrific singers," he said.
"Any way I can assist, I do, but I certainly don't tread on the director Debbie Fraser's toes."
One of those benefitting from King's support was Bannockburn actress Millana Anello, who had the unusual task of playing lead male Aladdin.
"Matthew's such a nice guy," she said.
"He's one of those people that you can go to if you need help with anything."
The 15-year-old will take to the stage in her first show with Queenscliffe Lighthouse Theatre Group just a couple of years after she started acting.
"I started doing acting classes that my parents got me into for fun and I discovered I really enjoyed it, so I decided to pursue it in a theatre form."
She described her Aladdin as more "emotional" than the Disney version.
"You get to see a different side of Aladdin – I guess – in this show," said.
"Playing a male is much harder than I thought it would be – I have to embody male characteristics.
"It's definitely one of the most challenging roles that I believe I'll get."
Like King, she wants to be one of the lucky few who act for a living.
"It's definitely my career goal," she said. "I'm moving schools to pursue theatre."
Aladdin runs for four shows daily at Queenscliff Uniting Church Hall until Saturday.