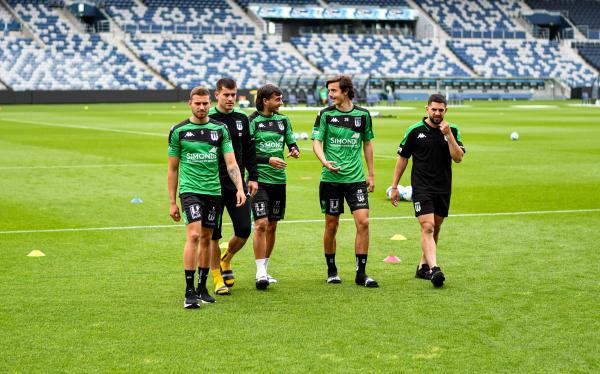 Ash Bolt
Almost 13,000 fans will be allowed to gather at GMHBA Stadium next weekend to see Western United kick off its A-League season.
Western United and Kardinia Park Stadium Trust announced last week it had been given advice the capacity limit for the stadium would be increased to 50 per cent, allowing 12,906 fans through the gates.
Western United chief executive Chris Pehlivanis said the increase was a welcomed boost for the club following negotiations with the state government.
"It's fantastic that Victoria is opening up again and I am so pleased we've been able to work with the Kardinia Park Stadium Trust to give more fans the chance to enjoy live football," he said.
"It's been a long time without our wonderful fans in the stadium and I know the whole club is looking forward to welcoming them back."
Kardinia Park Stadium Trust chief executive Gerard Griffin said it was pleasing to welcome fans back into the stadium.
"After a long break between matches we look forward to hosting Western United's opening game for the 2021/2022 A-League season," he said.
Western United kicks off its A-League season with a clash against Melbourne Victory, dubbed the 'Battle of the Bridge', on November 20.
The season opener will be John Aloisi's first competitive match in charge of the team as he comes up against a new-look Victory outfit with head coach Tony Popovic also taking to the touchline for the first time.
However the green and black will also be taking to GMHBA season this weekend, hosting Newcastle Jets in its first-ever FFA Cup match.
Assistant coach John Anastasiadis said he was looking forward to seeing the team compete in the competition.
"It's very exciting to be taking part in the FFA Cup, as it's another piece of silverware that our club will be competing for," he said.
"No doubt it's extremely important for our club, which is only three years old, to start to add to its silverware cabinet, and the FFA Cup provides that.
"Furthermore, it's also good to get games as part of our preparation for this year's championship."
Western United hasn't played in Geelong since January, where it claimed a thrilling 5-4 victory over Perth Glory.