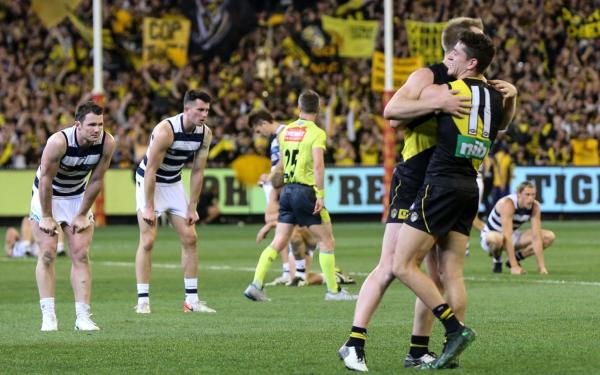 By Luke Voogt
Cats skipper Joel Selwood is set to miss his fourth consecutive AFL match as Geelong faces Richmond tomorrow night in a vital game for both sides' top-four chances.
Selwood has been sidelined since sustaining a knee injury against Port Adelaide in round 12 and Cats coach Chris Scott again ruled him out today.
"We're going to be a little more conservative again," Scott told a press conference.
"He's in good shape [but] I think we've been pretty consistent in saying that we were going to wait to make sure he was absolutely right.
"He's right this week, I think, but we're just going to put the extra week in the bank and bring him back for the round 18 game."
Scott assured the media that Selwood had not suffered a setback in his recovery.
"It's just being really conservative. He has been managing issues over the last couple of years actually.
"Last year we played him when, in retrospect, we probably shouldn't [have] so we are doubling down on our decision this year to be a bit more conservative.
"If anything, we think that the chance for him to get extra sessions in and improve his fitness will be a better preparation for finals as opposed to playing this game.
"I guess the proof will be in the pudding."
But tough, long-kicking Irishman Zach Touhy was "an almost certainty" to return for his 200th game after taking two hard hits to the ribs against Western Bulldogs in round 14, Scott said.
Ruckman Rhys Stanley was also likely to return, he said.
The Cats are chasing revenge against the Tigers after the heartbreak of their 2019 preliminary final loss.
Earlier in the week, star midfielder Sam Menegola, who has had a brilliant 2020, spoke of his excitement about facing the Tigers.
"They've probably been the best side over the last three years so [we are] not expecting anything but their best."
The match will be a clash of two styles, as well as two of the AFL's best sides.
Geelong has been able to switch to a controlled style of gradually working the ball into its forward 50 with superb kicking accuracy.
While the Cats have also shown speed moving the ball through the middle, and tenacious tackling and forward pressure, these have long been hallmarks of Richmond's game.
"I think we've got a fair idea of how they play but stopping it's easier said than done," Menegola said.
Geelong will be hungry for revenge and to maintain its place in the top four. But as Menegola suggested, the predominant style of play in tomorrow night's game could determine the result.
The 10-week suspension of Richmond players Sydney Stack and Callum Coleman-Jones for breaching COVID-19 protocols last week is a wildcard.
Their omission could hurt Richmond and the scandal has been a distraction for the club, but it could also provide extra motivation for the rest of the Tigers to lift their game tomorrow night.
Coleman Medal leader Tom Hawkins is in career-best form and if he kicks another bag against Richmond it will only help the Cats chances.
Cats by 13 points.